'Modern Family' Comes of Age: Are Luke and Manny Truly Ready To Graduate?
Emotions run high in the May 17 season finale of Modern Family as Manny (Rico Rodriguez) and Luke (Nolan Gould) graduate from high school and while Manny graduates with honors, he feels unworthy of the praise after celebrating with his irresponsible dad (Benjamin Bratt). How does Luke feel about all this? Gould fills us in on the big episode.
Is Luke supportive of Manny's integrity and character label during graduation?
Nolan Gould: No, he probably thinks he's a nerd. But I believe deep down he actually respects Manny for doing what Luke can't do himself. There's equal parts jealousy and admiration for Manny's good grades, honorable track record, and acceptance to college. I think it goes both ways though and Manny respects, although he'd never admit it, Luke's ability to throw caution to the wind and play by his own rules.
Luke and Manny have approached school differently but do you think they've learned from each other along the way?
They have definitely learned from each other along the way. People have compared Luke and Manny's relationship to The Odd Couple since before we were old enough to get the reference. They really make a great duo. Their positive and negative qualities counteract, coincide, and play off each other really well. Without Luke, Manny would likely have gone through high school without having any fun. Without Manny, Luke probably wouldn't have made it to graduation. They have a rivalry that I think is common with any siblings, cousins, relatives, or friends at their age and really drives them to be better.
Safe to say things will not go smoothly to get to this graduation? What can you tease about what we'll see with the other family members?
This is Modern Family. Expect chaos and high jinks to ensue. Manny's dad Javier returns to take his son out to celebrate the night before his graduation. But what happens leaves Manny questioning if he really deserves the integrity and character sash. Meanwhile, Phil (Ty Burrell) is emotional that his "little man" is graduating and Alex and Haley try to stop him from making an embarrassment of the whole family with his waterworks. The episode is funny and crazy yet has a lot of great emotional moments about coming of age and the feelings of watching your kids grow up and leave. This one is not to be missed!
See Also
Plus, 'Blindspot,' 'Flipping Out' and more
Are Luke and Manny truly ready for the world now that they're graduating?
Manny and Luke are as ready as they'll ever be. I think we've seen a split this season between the two characters and their futures. They're each on their own path now. Manny is likely going to a world class university and making a name for himself in the world while Luke is…well he'll always have a room in the Dunphy household. But they'll always have the support of each other and the rest of the family to help find the way.
Early episodes of the show air all the time. How is it when you see those old episodes where you're so much younger?
People always come up to me and tell me how strange it is to have watched me grow up on TV and change so much. Trust me, it's so much weirder for me! I can't believe I was ever that small or squeaky-voiced. I honestly don't recognize myself. I love watching old episodes though. After so many years, I laugh at jokes I forgot were in there or remember stories from off-screen that I hadn't thought about in a while. It's like looking at family photos or watching old family videos.
Modern Family, Wednesdays, 9/8c, ABC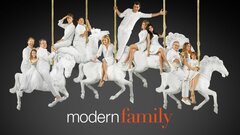 Powered by