Maggie Siff on Being the Good Person in 'Billions' 'Who Sneaks in Humanity'
Maggie Siff is plenty schooled in playing women immersed in high-testo worlds. To wit: Mad Men's Rachel Menken, one of Don Draper's many girlfriends, and Dr. Tara Knowles, biker Jax's "old lady" in Sons of Anarchy. In Billions, Siff is psychiatrist Wendy Rhoades, caught in a high-stakes war between her husband, U.S. Attorney Chuck Rhoades (Paul Giamatti), and her employer, hedge-fund honcho Bobby "Axe" Axelrod (Damian Lewis). Siff shares her take on being the ultimate mediator of machismo.
RELATED: Billions Sees Two Men Fighting Over Power (and Money) by Any Means Necessary
The show's opening scene showed Chuck being humiliated by Wendy in full dominatrix gear. What's that about?
They have a deep, complicated relationship. [Laughs] Chuck carries around shame rooted in his relationship with his powerful father [Jeffrey DeMunn]. Also, he makes or breaks people's lives every day. He's under an incredible amount of pressure, and this is an outlet.
What gives Dr. Rhoades a rush?
She gets off on the alpha nature of the place. She's not morally pure, but a good person who sneaks in humanity when she can.
She knows their weaknesses. Will she use that power?
She may not know all the criminality around Axe Capital, but Wendy has a huge emotional edge over them and could use it for good or evil.
What does the show tell us about this financial world?
One of the intriguing elements to me is just how much power and influence Axelrod wields by virtue of how much money he has. But it's ever-shifting who the villain is here.
Memorably on SoA, Tara was forked to death by her biker moll mother-in-law (Katey Sagal). How dangerous is this cutthroat financial world?
I was relieved to tell my parents that I didn't think I'd be getting killed in some brutal way. There's violence and volatility and passionate people; they're just not yielding guns…yet.
Billions, Sunday, Jan. 31, 10/9c, Showtime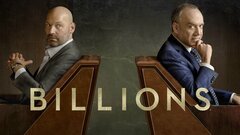 Powered by