Model Jessica White Stops by 'Zoe Ever After', Starring Brandy (VIDEO)
Brandy is back!
Years after headlining her own show, Moesha, the singer is back on the small screen in Zoe Ever After. The new series premiered on BET last Tuesday, Jan. 5 and introduced the singer as Zoe Moon, a single mother in New York City who's also a businesswoman ready to pursue her dream of starting a cosmetics line. On the cusp of a divorce, Zoe is forced to juggle her home and love lives, plus her new career.
The show's second episode brings guest star supermodel Jessica White, in a recurring cameo role, playing a version of herself as Zoe's outspoken supermodel neighbor. (The model also played a version of herself in an episode of Real Husbands of Hollywood last year.)
Ahead of tonight's episode, we spoke to White about her guest role.
What was it like to play a version of yourself on the show?
I think in every role that you play as an actor, you kind of have to find a little piece of yourself. My character and I are both models, so we have that in common. She has a lot of layers. I wanted to make her very likable and slowly but surely pull back and show that she is very sweet and has a sense of humor.
What has been your favorite part of being on the show so far?
The directors and actors on set really teaching me my strengths and weaknesses as an actor.
What do you think your character's beauty tips would be for Zoe?
She definitely has a thing for gladiators. She needs to update her wardrobe and not wear gladiator boots. Jessica is kind of like The Devil Wears Prada, but I believe people should wear what they want to wear.
What fun tidbits or show-specific facts can you share? Any funny stories?
Because it was my first time doing a sitcom, I am more so taking things on a serious level and really concentrating on being professional. I definitely have fun reading my lines, and have had a great time getting to know Brandy on a personal level.
What other guest stars would you love to see on Zoe Ever After in the future?
Preferably a man, so I can teach Zoe some dating tips.
What shows are you watching? Your fave TV guilty pleasure?
With my busy schedule, when I have time to sit and watch TV, I always find it difficult to choose, as there are so many awesome shows. I do love a good documentary film and will watch those whenever I get the chance.
Who is your celebrity crush?
Michael B. Jordan. Who doesn't love him?!
Plus: Watch this exclusive video of White's debut role, where she shares an elevator ride with Zoe and holds nothing back (including her wardrobe choices) about her opinions on Zoe's love life.
[jwplatform TFsPjCIs]
Zoe Ever After, Tues. Jan. 12, 10/9c, BET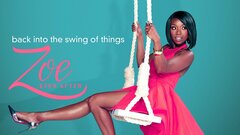 Powered by