John Oliver Confronts Dustin Hoffman Over Sexual Misconduct Accusations, Plus His 5 Best 'Last Week Tonight' Rants
John Oliver does not do excuses, and Dustin Hoffman found himself in the crosshairs of the HBO host during a 20th anniversary screening/discussion of the film Wag the Dog in New York City on Monday night.
In November, Hoffman was accused of sexual harassment by Anna Graham Hunter. She claims Hoffman groped her and made inappropriate comments in 1985 on the set of the TV movie, Death of a Salesman. At the time, she was 17 years old and an intern.
During the panel talk, The Washington Post reported Oliver alluded to the accusation and said to the Oscar-winning actor, "This is something we're going to have to talk about because … it's hanging in the air."
Hoffman responded, "From a few things you've read, you've made an incredible assumption about me." The exchange was heated, to say the least, and reportedly continued on for most of the panel.
Watch the conversation here, via the Post's video:
Oliver is known for is scathing rants infused with perfect comedic timing on Last Week Tonight. The Brit doesn't shy away from political topics, foreign affairs, and pop culture. We've collected his best take downs of everything from the president to beauty pageants.
Watch his top rants below:
Donald Drumpf:
Brexit:
"Fake News":

Miss America:

Televangelists: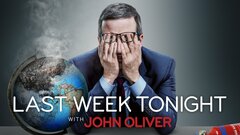 Powered by