From 'Longmire' to Marvel's 'Runways,' Add These Shows to Your Fall Streaming List
LONGMIRE
Returns Friday, Nov. 17, Netflix
The Wyoming-based modern Western starts its sixth and final season with Sheriff Longmire (Robert Taylor) wondering if he should throw in the saddle. But before he decides, he'll at least try to save his best friend, Henry (Lou Diamond Phillips), who's been kidnapped by ex–Cheyenne Reservation Police Chief Malachi (Graham Greene).
MARVEL'S RUNAWAYS
Premieres Tuesday, Nov. 21, Hulu
Six teenagers walk into a basement…and discover their parents are a cabal of supervillains known as The Pride. We're gonna go out on a limb and say this is one of the few times skipping therapy and starting a war between good and evil is the healthy choice.
See Also
Hulu's standout adaptation of the Marvel comic-book series gets a fittingly fierce promo.
SHUT EYE
Returns Wednesday, Dec. 6, Hulu
Former fake psychic Charlie (Jeffrey Donovan) and his wife, Linda (KaDee Strickland), continue to try making sense of his "visions," but now with Season 2–level struggles of losing their house and getting caught up in a RICO investigation.
JEAN-CLAUDE VAN JOHNSON
Premieres Friday, Dec. 15, Amazon
Imagine if Jean-Claude Van Damme's (below) acting career were a front for his real job as a secret agent. That would make you feel much better about Jean-Claude Van Damme's acting career, right? Or make you laugh, which is the idea behind this oh-so-meta comedy.
See Also
'The Handmaid's Tale' took home eight Emmy Awards at the 2017 ceremony.
BRIGHT
Premieres Friday, Dec. 22, Netflix
Netflix makes your holiday wishes come true with a proper big-budget action movie you can watch from your couch. Will Smith plays a cop fighting crime in an alternative version of present-day Los Angeles, where supernatural creatures and humans are in a turf war.
PHILIP K. DICK'S ELECTRIC DREAMS
Premieres Winter, Amazon
Actors like Bryan Cranston and Anna Paquin explore humanity's future in a 10-episode anthology of Man in the High Castle novelist Dick's dystopian short stories.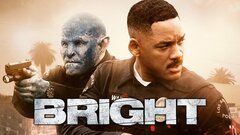 Bright
where to stream