Who on 'The Orville' Is a Real Genius? (VIDEO)
Well, we can tell you it's not Ed.
In "New Dimensions," the penultimate episode of The Orville's first season, airing Thursday, Captain Ed Mercer (Seth MacFarlane) gets word from Kelly (Adrianne Palicki) that one of his officers is far smarter than anyone would have expected.
And that's not all: From what Kelly has to say after dropping this news, it sounds like the ship may be about to lose a crew member, meaning that this unexpected genius could be looking at a promotion.
Check out this exclusive clip to see who has the big brain:
Whether we are looking at a potential shakeup on the ship—and within the cast—remains to be seen, but we definitely see where the show is heading with that final moment that throws Ed and his ex closer together than they have been all season.
The Orville, Thursdays, 9/8c, Fox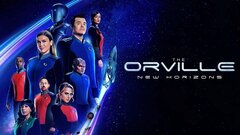 Powered by