'The Hunt for the Zodiac Killer' Is on in 5-Part History Docu-Series (VIDEO)
We're betting Ted Cruz is probably not gonna be tuning in for The Hunt for the Zodiac Killer.
Despite the internet memes that mockingly accuse the senator of serial murder, and David Fincher's inconclusive 2007 thriller starring Jake Gyllenhaal, we still have no idea who pulled off the bloody Bay Area "Zodiac Murders" that captivated the nation during the late '60s and early '70s. But History is inching a lot closer to a possible resolution with their five-part docu-series, The Hunt for the Zodiac Killer.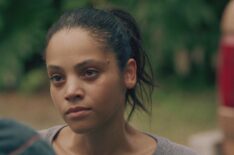 See Also
Get ready for a heart-wrenching 'Queen Sugar' season finale.
Combining a cadre of law officials and code-breakers with a groundbreaking super-computer that has been programmed to think like a killer, Hunt looks at how the mystery madman's letters to the San Francisco press—loaded with crypotgrams— revealed the code Z340 and a plethora of potential clues.
Now, the files are being re-opened, new witnesses are stepping up and modern technology is doing its thing. And from the looks of this exclusive trailer for the series, there's a definite case for recording the entire series.
The Hunt for The Zodiac Killer, Series Premiere, Tuesday, Nov. 14, 10/9c, History