'Married to Medicine': Quad Admits Fans Will See 'Inner Workings' of the Cast's Marriages This Season
[Spoiler Alert: This article contains spoilers about the Season 5 premiere of Married to Medicine.]
Quad Webb-Lunceford steals the spotlight on Bravo's hit show, Married to Medicine, with her quick wit and sassy confessional comments. But the Season 5 premiere had a more somber tone than usual. Dr. Jackie Walters candidly opened up about how her husband, Curtis, was caught cheating on her and the scandal almost ruined her reputation she worked so hard to build.
Curtis' actions have also made the rest of the cast, including Dr. Heavenly Kimes, Dr. Simone Whitmore, and Toya Bush-Harris reevaluate their marriages and question the strength of their own relationships.
See Also
These doctors might be able to mend a patient, but what about their relationships?
Quad spoke to TV Insider exclusively about the emotional and intense conversation about spouses that took place at the hotel party which was meant to cheer up a down Jackie.
What was it like watching Jackie go through her marriage struggles on the show?
Quad Webb-Lunceford: Jackie had no other choice. Once everything hit the blog, it went viral, everyone knew. She was forced to have to address it. For her to work so hard for her stellar reputation and for it to be torn down by the person who is supposed to honor, respect, and protect her, it was very disheartening to me. I didn't like it.
Did the cheating scandal change the dynamic of the group?
Everyone's going home like checking their household situation or checking their husbands and having deep conversations about infidelity now with their husbands. Before it was probably a mere thought, not something that was really focused on, but when it was abundantly clear with Jackie and Curtis it made people reevaluate their marriages and check in with their spouses.
In the hotel room, you said a doctor's patients come first, do you feel neglected in your relationship? And do you think Jackie did this to Curtis?
I can only speak to my relationship. For me, I have always tried to understand my husband's career. Doctors go out everyday and they're working with people whose lives are on the line. I have always tried to understand that when the phone rings, he has to answer it if he's on call. If he has to go into the hospital, there may be a date that's interrupted. So for me, I've always tried to understand that the patients come first.
See Also
'All my struggles just make me stronger,' says the reality star about rumors of infidelity in her marriage.
Toya said her marriage or choice to leave it, is different because she has children. Is that a sensitive topic for you and Jackie?
Her statement is her statement. She does have two boys. For me, I don't have kids and that's by choice. For Jackie, she doesn't have kids and that's by force. It might be a tender topic for Jackie but for me, I can respect Toya's opinion. Now for me, cheating is completely off the table. There are a lot of things I might go through with you, i.e. being number two to your career, but infidelity … I value who I am and I'm not going to stand for that.
Heavenly got heated while talking about cheating and said she'd go after the other woman, were you surprised to hear that?
Hell no I wasn't surprised but I don't agree with it! I don't understand why women feel like they have to come at each other's throats when that line is crossed. That's like arguing in high school: 'Oh, that's my boyfriend. No he's my boyfriend.' It looks like you both have a problem with him. You shouldn't be turning on each other.
Are you surprised by the success of the show?
I think we have very talented women, very intelligent women. I think we have a recipe for success and I think it's unfolding now with us being around for five years. I don't think people knew we would around for so long. I think they though 'Ohh, here's another Housewives type of show coming out of Atlanta.' We've managed to pave our own street and I think it actually worked for us. I hear a lot of times often, people would argue, that Marred to Medicine is better than Atlanta Housewives. They bake the cake, we ice it.
What will fans be surprised to watch?
Fans are used to there always being a rift in relationships, a woman arguing with another woman. I think this season you see us actually connecting and being a sisterhood versus being against each other. And you see the inner workings of a lot of our marriages.
See Also
Get ready for tears, yelling, and a few cringe-worthy first dates.
How do you get along with the new cast member, Dr. Contessa Metcalfe?
I think it's very challenging for any person who is new to come into an established group of women. She has to make her mark but in the process she has to watch and not step on anyone's toes. It can be very stressful for a new individual. I think Contessa shows a lot of promise. Her, Heavenly and myself kinda started a little rocky but after a couple of conversations taking place she was like 'Oh, OK I understand' and she's very open.
What was the biggest revelation you had at the end of the cast trip to Barbados?
I feel Heavenly had it hard on that trip. She was being very honest and I think some people couldn't take the honest truth and they lashed out at her and she got a raw deal. I think her intentions were good, she meant well and she was just perceived wrong. As for me coming out of the trip, it just gave me clarity on some things in my life.
Tell me about your talk show.
Sister Circle is in its seventh week. It's a phenomenal show, a panel show-talk show with four African American women and we talk about everything from politics to the latest hot tea and we do spill it. It's a lot of fun. I'm also working on my cookbook, Romance on the Table, and it's going to be a phenomenal book
Married to Medicine, Sundays, 10/9c, Bravo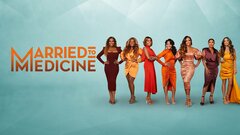 Powered by