Kit Harington's 'Gunpowder' to Make U.S. Debut on HBO
The BBC three-part series, Gunpowder, which is based on the real-life historical events in 17th-century London that led to Guy Fawkes Day (Nov. 5), will make its HBO debut in the U.S. this December. The series stars Kit Harington (Game of Thrones), Peter Mullan, Mark Gatiss, and Liv Tyler, and is based on the attempted destruction of the House of Lords in 1605.
According to an HBO press release, "The first episode will debut Monday, Dec. 18 (10/9c), followed by the other parts the subsequent two nights–Tuesday, Dec. 19 and Wednesday, Dec. 20–at the same time." The show will also be available on HBO On Demand, HBO NOW, and HBO GO.
Harington co-executive produced the series and also has a personal connection to the project: He is a descendant of Robert Catesby, who was an intricate part of the plot, and portrays him on the show.
"We are delighted to offer a platform for a project that is so close to Kit Harington's heart," said Kary Antholis, President, HBO Miniseries and Cinemax Programming, "Kit's passion for and belief in Gunpowder are evident in every frame of the miniseries."
Gunpowder, Dec. 18-20, 10/9c, HBO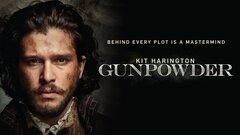 Powered by