New 'Outlander' Preview: 'This Season Changes Everything for Claire and Jamie' (VIDEO)
When the second season of Outlander returns to Starz, expect many things to be different, from the locations (Paris and Versailles) to the costumes to Claire (Caitriona Balfe) and Jamie's (Sam Heughan) relationship, which will be "tested and strained," says Heughan.
When the couple insert themselves into Parisian high society and the courts of King Louis XV, "neither of them are comfortable with the role of suspicion, being two-faced and double-sided," adds Balfe.
RELATED: 5 Romantic Outlander Photos From Season 2
But "the stakes are enormous" when it comes to saving the future of Scotland, says executive producer Roger D. Moore. So to prevent thousands of Jacobites and Highlanders from being killed, Claire and Jamie must make certain sacrifices, though hopefully not at the expense of their baby. "You owe me a life," Claire warns Jamie when they're in a fight.
Watch a behind-the-scenes featurette released by Starz to hear more about Season 2.
Outlander reasons in April 2016.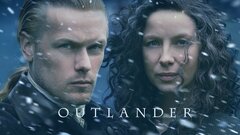 Powered by