Flirting Goes Awry on 'Undercover Boss' (VIDEO)
Flirting to potentially get a better tip could be a solid plan. But on Undercover Boss, there's no way this strategy will end well.
In this Friday's episode, when an employee of the healthy fast food chain, Muscle Maker Grill, suggests flirting as a piece of advice to a new worker—who is actually the franchise's new chairman Tim M. Betts, undercover—things get extra awkward, extra fast.
Check out an exclusive clip from the episode, "Muscle Maker Grill," below.
[jwplatform 251JVWic]
Undercover Boss airs Fridays at 8/7c on CBS.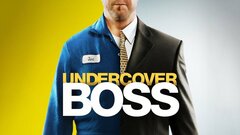 Powered by