'Will & Grace': Megan Mullally's Karen Gets 'Raw and Vulnerable' in New Episode
On this week's Will & Grace, co-creator David Kohan says steely, sarcastic Karen (Megan Mullally) gets "raw and vulnerable"—and it's not because she runs out of vodka.
The emotional episode of the NBC sitcom honors the relationship between Karen and her sassy maid Rosario (Shelley Morrison, who retired from acting and didn't reprise her role for the sitcom's reboot). Though many details remain under wraps, Mullally tells us a bit more.
Why was it important to highlight Karen and Rosario's bond?
The characters of Rosario and Karen are a duo that the fans really love and I, as an actor, really love.
Have you kept in touch with Shelley?
Even though she's not around, she and I have been talking on the phone quite a lot. I have been keeping her abreast of all the fun things that we've been doing. And I wanted to be sure that she knew how great this episode was. It doesn't get much better than this.
We've been seeing familiar faces pop up and this episode is no different!
Leslie Jordan (as rival Beverly Leslie) was in [last week's] show. He's just so good and just the rhythm and the timing and the verbal ping-pong, as he puts it. The same applies to Minnie Driver (who returns Thursday as Lorraine Finster). I don't feel like we skipped a beat. She's not only great at playing that character–she's a great actress across the board–but she's just a really lovely person to have around. She's really kind of sparkly and a fun, interesting person to have on the set.
I was at the taping and your performance had your costars crying!
It's a tearjerker. It meant the world to me that Debra [Messing], Eric [McCormack] and Sean [Hayes] were really affected, because I admire them so much as actors. Debra and Eric have often had chances to do scenes that were more emotional and dramatic and I really never have. I've had little twinges of it, a couple of episodes in the past, but not to that degree. And I would also say, not only in this episode but just in my entire career, at the tender age of 58, I don't know if anyone has ever given me the opportunity to show the dramatic side of myself. It's always something I feel like I'm capable of and would like to show. And I was thrilled the writers allowed me to have that opportunity.
Will and Grace have also started working together. How's that going to go, especially with Karen?
Nothing yet, but it's going to. Traditionally Karen and Will don't really like each other. They're not bitter enemies, but they're not the best of friends, so I think there's going to be a little period of adjustment where Karen has to get used to the fact Will's around all the time and Will has to get used to the fact that he has to be around Karen all the time.
There's been some really great physical comedy since the show has returned. Do you think the boundaries are being pushed there?
Yeah. I would say the shower episode and "Rosario's Quinceañara" are the most physical in terms of physical comedy that we've shot so far. Sean is going to weigh about seven pounds by the time we're done. He loses about eight pounds an episode, but we're having a blast. And it's completely different from anything else that's out there in live-action, scripted comedy. If I were asked, "What show would you liken Will & Grace to?" I'd have to say Bob's Burgers or The Simpsons are the closest to what we're doing.
Will & Grace, Thursday, Nov. 2, 9/8c, NBC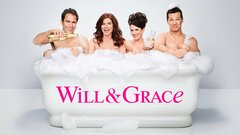 Powered by