Roush Review: 'Stranger Things 2' Takes Us Back to the '80s for a Thrill Ride
The stranger things get in the upside-down world of Stranger Things 2, the follow-up to Netflix's cult horror phenomenon, the more fun we have jumping at every eerie sound in the monster-blighted woods of Hawkins, Indiana.
Like scarfing down all your Halloween nougat candy, it's nearly impossible not to gorge on all nine episodes—probably two too many, to be honest (not unlike a candy binge)—of this scary-funny nostalgic romp, careening from one catastrophic cliffhanger to the next. But unlike most shows of this genre, Stranger Things remains as endearing as it is terrifying, imbued with an openhearted guilelessness in which asking a girl to dance can be as nerve-racking as descending into tunnels and cellars where demons from another dimension lurk.
Created by the Duffer Brothers, whose affinity for the 1980s is boundless—Ghostbusters, Radio Shack, The Terminator, Rick Springfield hair and, yes, sequels—ST2 once again plays like the love child of Stephen King (in Stand by Me/It mode) and Steven Spielberg (in his Goonies phase), where nerds rule, bad guys ultimately suffer, and heroes come in all sexes, colors and ages.
"I just wish it had a little bit more originality," quips a new character after being brought up to speed on the supernatural antics, reflecting understandable criticism that this franchise is nothing if not derivative. And while it's a natural impulse to look askance at sequels, which rarely recapture the original sense of magical discovery, there's nothing cynical about the pure thrill-ride joy of ST2, whose influences this time even include The Exorcist. Poor Will (a very impressive Noah Schnapp), rescued from the Upside Down a year ago, suffers mightily upon discovering he hasn't entirely escaped the psychic clutches of the otherworldly menace, and it's going to be a group effort to save Will, Hawkins, and maybe the world, from destruction.
What I was most reminded of here was the way James Cameron's Aliens built upon Alien, turning a sleeper hit into a spectacular and shameless thrill ride that never stops entertaining. (Adding to the Aliens vibe: the spot-on casting of Paul Reiser as the sinister lab's new, and seemingly more sympathetic, overseer.) Though ST2 isn't nearly as tightly constructed, you'll no doubt love cheering on Will and his hilarious buddies—Finn Wolfhard as Mike, Caleb McLaughlin as Lucas, and the irrepressible Gaten Matarazzo as Dustin—while fretting for the tormented and unhappily gifted Eleven (Millie Bobbie Brown) as she goes on a personal quest that, unfortunately, derails the action at a critical moment. (Many may be tempted to skip Episode 7 on their first binge.)
The adults are just as engaging: Winona Ryder as Will's frantic mom, David Harbour as Hawkins's bleary but steadfast police chief and especially Sean Astin, joining the fray as a lovable boob who rises to the heroic occasion. The show's watchcry is "Friends don't lie," and neither do I. Stranger Things 2 is a blast.
Stranger Things 2, Season Premiere, Friday, Oct. 27, Netflix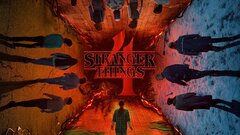 Powered by