History's 'Vikings' Season 4 Gets an Official Return Date
Season four of History's Vikings officially invades on Thursday, Feb. 18. And it's with a bigger army of characters.
Joining the series are some new characters: King Harold Finehair (Peter Franzén), a potential foe of Ragnar (Travis Fimmel); Harold's younger brother, Halfdan the Black (Jasper Pääkkönen); and Yidu (Dianne Doan, Disney's Descendants), an unlikely and mysterious character who Ragnar finds interesting.
RELATED: (Video) Behind-the-Scenes Look at Vikings' "Cheese Grater" Siege Ladders
The network's also upped its episode order from 16 to 20, and the first 10 will air every Thursday starting on the 18th, with the final 10 following later in 2016.
Last time we saw Ragner (Travis Fimmel) and the gang, the king was up to his chin in both wounds and people salivating to usurp his title. Now they have more episodes in which to try!
May Odin ride with you into Valhalla. An all-new season of #Vikings premieres February 18th at 10/9c. https://t.co/aCI2yIpMWo

— Vikings on HISTORY (@HistoryVikings) December 17, 2015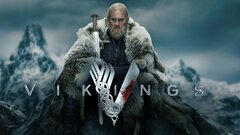 Vikings
where to stream
Powered by