What's Worth Watching: 'Girlfriend's Guide to Divorce' on Bravo for Tuesday, December 22
Girlfriends' Guide to Divorce, "Rule #605: You CAN Go Home Again," Tuesday, Dec. 22, 10/9c, Bravo
Tis the week before Christmas and not a lot of note is stirring on TV, but here's a bittersweet bonbon of rom-com goodness, courtesy of Bravo, whose Girlfriends' Guide to Divorce dramedy often feels more real than the antics of those supposedly real housewives of wherever. That's especially the case when the focus falls on the tortured relationship of Abby (Lisa Edelstein) and her "husband-slash-ex-husband" Jake (Paul Adelstein). They can't stop loving each other, but they can't stand living with each other.
That dynamic is put to the ultimate test in this week's moving episode, written by Adelstein (who's terrific here, as is his co-star), in which Abby and Jake decide to spend a weekend together at home, without distractions of kids or work so as to open the floodgates of "radical honesty." An ironic development for Abby, who's selling herself in the media these days as "the face of divorce"—when she isn't secretly cheating with her ex. Their lost weekend is part sexy frolic of desire and debauchery, part psychodrama where old irritating habits die oh so very hard. The chemistry between the actors is tremendous, even when they're screaming at each other in fury over their own foibles.
INSIDE TUESDAY TV: Robin Roberts looks back at The Year: 2015 in a two-hour ABC News special (9/8c) that reflects on the highs and lows of politics, pop culture, society, celebrity and events that gave us hope (the Pope's visit) and challenged our resolve (the rash of shootings and terror attacks). She'll be joined by the rest of the news team, including her Good Morning America and Nightline colleagues and World News Tonight anchor David Muir. … Tina Fey is the guest programmer for Turner Classic Movies, with an emphasis on (what else) comedy, starting at 8/7c with the 1957 Hepburn-Tracy vehicle Desk Set, followed by the 1940 screwball delight My Favorite Wife (with Cary Grant and Irene Dunne at their pinnacle) and Neil Simon's Oscar-winning The Goodbye Girl from 1977. Can't imagine a more enjoyable way to spend an evening, and neither apparently can Tina.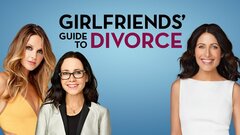 Powered by