2015's TV Moment of the Year: Glenn's 'Death' on 'The Walking Dead'
The readers of TV Guide Magazine and TVInsider.com have spoken, and 2015's TV Moment of the Year belongs to the undead. AMC's The Walking Dead shocked and enraged viewers when fan favorite Glenn (Steven Yeun) appeared to meet his untimely demise at the hands of a hungry zombie horde in the October 25 episode.
While there was plenty of blood and gore on the screen to make it seem as if Glenn really did die, audiences were forced to wait four weeks before learning the former pizza delivery boy was alive and (mostly) well, shielded from the walkers by the body of former Alexandrian Nicholas (Michael Traynor, above left, with Yeun) before taking shelter underneath a Dumpster to wait out the herd. "I'm glad we can still offer watercooler moments for people to talk about," Yeun says. "To be involved in any way with something that has made a mark such as this is very humbling. We sincerely do have the greatest fans."
However, some fans cried foul online, claiming clever camera tricks manipulated the scene and therefore lessoned the stakes going forward. "It wasn't a huge cheat," executive producer Greg Nicotero argues. "We shot it all at the same time and went to great lengths to make sure that we told the story authentically in real time with real camera angles." Now that takes guts.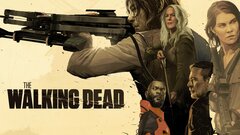 Powered by