How 'Fargo's Music Supervisor Chose the Groovy Sounds of Season 2
Despite the day's bloodshed, a homesick smile snuck onto Lou Solverson's (Patrick Wilson) face as he dialed his terminally ill wife in episode 9 of Fargo's second season. That smile sank into concern after a few unanswered rings, but before Lou could get too worried, a bullet hole in the window across the parking lot called his attention away. Meanwhile, the band Dr. Hook & the Medicine Show crooned a desperate "just want to tell her goodbye."
This scene, and its accompaniment by Shel Silverstein's poem "Sylvia's Mother," with music by Dr. Hook & the Medicine Show, is one of music supervisor Maggie Phillips's top five musical moments of the season. More than the Coens' style, or even the style of Fargo's first season, Phillips cites the sounds of the '70s in general as her biggest influence. Rounding out her other favorite musical moments of the season are some other classics from the era: Fleetwood Mac's "Oh Well," which plays during the opening montage of the first episode; Billy Thorpe's "Children of the Sun," which switches from background music to a jukebox tune as Rye Gerhardt (Kieran Culkin) pursues a judge into a diner, also in episode 1; Burl Ives's "One Hour Ahead of the Posse," which underscores a grim change in Ed's (Jesse Plemons) character as he cleans up what Phillips calls Peggy's (Kirsten Dunst) "debacle" in episode 2; and Jethro Tull's "Locomotive Breath," from the opening sequence of episode 7.
Phillips came to Fargo in season 2, taking on the daunting task of sonically matching the singular style and eclectic cast of the anthology crime drama. Her song selections have consistently succeeded in adding to the show's signature eccentricity, in turn creating a soundtrack that drives the plot, and its themes, forward. "I'm trying to help the storytelling along with the music," Phillips says. "So with a story this broad, not as in mainstream, but as in massive, and with characters that are so unique and diverse, the music has to fit."
We spoke to Phillips about her choice in music selections, and here's what we found out.
EP Noah Hawley Was Personally Involved in the Music Process
The brainstorm for music ideas began with writer and executive producer Noah Hawley early in the season's development process, with Phillips doing the bulk of her research before any of the episodes had been shot. She then stayed involved in the process all the way through to the later editing stages for each episode. "Once they had the director's cut, I would go in with [series score composer] Jeff Russo and Noah and watch the episode," Phillips says. "After each act, we would pause, talk about the music that [Noah] wanted in there, whether it should be songs or a score, and afterward, Jeff and I would go and scramble for a few days. He would write and I would listen, and then we started putting stuff in."
RELATED: Fargo's Season 2 Finale Will End With a Killer Bloodbath
There Are Easter Eggs to the Coen Brothers Movies
In choosing songs for the sophomore season, Phillips had a variety of sources to consult for inspiration, and there were plenty of opportunities to pay tribute to the films of Fargo creators Joel and Ethan Coen. Throughout the season, she scattered period-appropriate funky covers of songs like "Just Dropped In" (performed for Fargo by White Denim), featured in The Big Lebowski, and "Man of Constant Sorrow" (recorded for the show by Blitzen Trapper), from O Brother, Where Art Thou? But she didn't want to imitate the style of the Coen brothers' movies with her own music choices. "I wasn't trying to do in the soundtrack what the Coen brothers do in a soundtrack," Phillips says. "By doing the covers, it was more about just a nod to this tremendous body of work."
Song Covers From Specific Artists Were Commissioned
The work Phillips did to bring the season's soundtrack together went much deeper than picking songs from '70s hit makers; most of the song covers were commissioned specifically for the season. Phillips spent weeks communicating with Hawley and reaching out to artists who could give them just the right treatment. "Once we decided what artist would be doing a cover, we chose the song specifically for the artist, or if we knew a song that we really wanted to do, we chose an artist specifically for the song," Phillips says. "The idea was not, let's do a '70s version of 'Man of Constant Sorrow,' it was let's have Blitzen Trapper do a '70s version of 'Man of Constant Sorrow.'" Some of the show's other covers include Hawley himself performing "Didn't Leave Nobody But the Baby," and Shakey Graves performing "O, Death" (both callbacks to O Brother, Where Art Thou?). Spoon frontman Britt Daniel also provided an acoustic cover of Creedence Clearwater Revival's "Run Through the Jungle" (another Big Lebowski reference). Originally, Daniel intended the cover as a demo, but Phillips liked it so much that it made it into the show.
"The only cover that wasn't commissioned for the show was Bon Iver and the Chieftains' 'Down in the Willow Garden,'" Phillips says. "We actually tried to get an original recording for that, but nothing we could come up with was as great as Bon Iver's version, so we just ended up with the preexisting cover."
Budget Concerns Meant Getting Creative With a Few Songs
Creative control over songs and artists lay with Phillips and Hawley throughout development, but part of the challenge they faced was staying within budget. MGM worked with them for the most part, but budget concerns sometimes led to more imaginative song choices. One example of budget issues shaping the show's sound came in the lead-up to the climactic motel shootout in episode 9. Although Phillips wanted to use John Cale's "Gun" for the scene, the song that made the final cut was Junction's "Sorcerer." Explains Phillips, "You get creative and great stuff comes out of that."
A Season 2 Soundtrack May or May Not Happen
As for fans looking forward to an official Season 2 soundtrack, it's up to MGM to decide if it will be released. But with the amount of buzz Fargo's music has been generating this season, Phillips says she is hopeful that it could happen. "It's hard; soundtracks don't make money like they used to, but I do think we've developed something pretty special and unique," Phillips says. "We have so many songs that people have never even heard of before, even though they've existed for 40 years, and between that and the covers, there's a lot you could include." But for now, Fargo music fans can hear more of Phillips's musical curation skills on another upcoming project with Hawley, and when she returns for the show's third season.
Fargo, Fall finale, Monday, Dec. 14, 10/9c, FX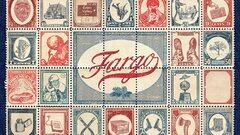 Powered by