'Star Wars Rebels' to Fight on for Season 3
Imperial forces may think they're rebel scum, but Disney XD clearly thinks a lot more about Kanan, Ezra and their fellow Star Wars Rebels. In fact, we can reveal exclusively that the network has renewed the top-notch animated series for a third season, set to air in 2016.
However, the Ghost gang must first get through Season 2, and fans can get a full dossier of dish on the year's final episodes in the new issue of TV Guide Magazine, on sale Thursday, Dec. 3. In addition to the details on the show's genesis and the impending arrival of a major legacy character from the films, executive producer Dave Filoni also opens up in the cover story about the genesis of Rebels, while voice actor Taylor Gray discusses the mystery that's been "looming over" Ezra since the Jedi-powered orphan joined up with Sabine and company.
"He's accomplished a lot over the course of the first season and has found his own family with the rebel group," the actor continues. "The one question that's still unanswered for him is: What happened to his parents?" The answer to that, Gray hints, "will determine what Ezra's fate is."
As for the Dec. 9 fall finale, Filoni is keeping things as secret as the plans for a new Death Star. "I'm driving everybody nuts with that on the crew," he says, adding that "only a select group of people have actually gotten to see" the episode's highly guarded (and apparently epic) final minutes. "The actors don't even know what happens!"
Well if that's not enough to send someone to the Dark Side…
Star Wars Rebels airs Wednesdays, 9:30/8:30c, Disney XD.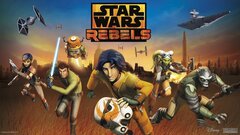 Powered by