Maria Bello Is 'NCIS's New Secret Weapon
Meet NCIS's new secret weapon: Jacqueline "Jack" Sloane (Maria Bello). The former Army psyops officer and close friend of director Leon Vance (Rocky Carroll, above, with Bello) joins the team in this week's episode as its first forensic psychologist. Her expertise? Knowing exactly what you're thinking. "Jack can look at you and tell from the way you move your hands and eyes if you're telling the truth or not," Bello explains. "And she's very good at putting puzzle pieces together to solve crimes." That will come in handy as she immediately jumps in to assist the crew in tackling the case of a kidnapped sailor. Bello helps us get further into Jack's head.
Is it true you wanted your character to have a man's name?
Yes. I liked the idea of the other [characters] talking about "Agent Jack Sloane" assuming it's a man. Then she would walk in the room and they'd realize that wasn't the case. I've always loved boys' names for girls. And "Jack Sloane" has a very throwback, 1940s feel. Jack is also my son's name!
Is Jack a loner?
Not at all. She quickly fits in with the group and really admires them. She can be a little odd, but she's also very warm. She has a past, and that isn't explored fully right away, but you will start getting glimpses of some of the stuff that she's been through. Though, at this point, I don't even know what that is!
Does she hit it off with Gibbs (Mark Harmon)?
There's definitely an immediate working connection between them. He's not her boss. So the playing field is level and they work well together and respect each other. They're equals. The writers didn't create this character as a foil for Gibbs. They didn't just throw her in because they wanted him to have fights with someone.
Did you do a lot of prep work for the role?
I did quite a bit of research on the real NCIS and I'm going to meet a forensic psychologist from NCIS, which I'm really looking forward to. But here's something that struck me: In the actual NCIS recruitment pamphlets, one of the questions is "Is it really like the TV show NCIS?" [Laughs]
NCIS, Tuesday, Oct. 17, 8/7c, CBS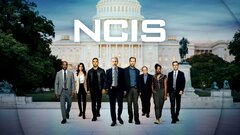 NCIS
where to stream
Powered by