Ask Matt: Could 'SVU' Surpass Classic 'Law & Order'? Plus: Fall Finale Anxiety, 'Days' Ousting Gays, 'Supergirl' and More
Welcome to the Q&A with TV critic (also known to some TV fans as their "TV therapist") Matt Roush, who'll address whatever you love, loathe, are confused or frustrated or thrilled by in today's vast TV landscape. One caution: This is a spoiler-free zone, so we won't be addressing upcoming storylines unless it's common knowledge. Please send your questions and comments to [email protected] (or use the new form at the end of the column) and follow me on Twitter.
Question: I've recently succumbed to the WeTV Law & Order binge-a-thons on Tuesdays and Wednesdays, which made me remember A) how much I love and miss the mothership; and B) that I haven't watched Special Victims Unit since the episode with Ludacris where practically the entire squad's skeletons were entered into evidence. Here's my question: I know we're still three seasons away from a tie, but do you think that SVU will outlast the mothership? If so, does that hinge on Mariska Hargitay sticking around? While characters didn't really matter on the mothership—yes, I know, we all love Lennie Briscoe, Mike Logan and Jack McCoy, but that's beside the point—SVU in my mind is much more serialized and character-driven. If Hargitay ever pulls the ripcord, I'm not sure if the show can thrive. But what do I know, I haven't watched it since I was in grad school. (P.S. Do you think if the powers that be could go back in time, they'd opt to not greenlight Law and Order: LA and keep the original on another year?) — Veronica (practically a lifelong Law & Order fan)
Matt Roush: Interesting questions, especially in light of the recent reports from the latest Chicago celebrations that Dick Wolf and NBC are mulling some sort of limited-run return to the classic Law & Order series, if they can get the cast and timing worked out. (I would love this!)
I'll take your last and simpler question first. In hindsight, NBC would have to regret the botched LA experiment, especially in light of the unforgivable decision to jettison the original series without any fanfare or buildup after 20 legendary seasons. But could SVU actually go on to have a longer run than L&O classic? Hard to say, though it's possible. I've watched a few episodes this season, and most have been pretty solid. You're probably right that if Benson leaves the squad, it's time to turn the lights out, but Mariska Hargitay has stayed loyal to the show, and I wouldn't be surprised if there isn't a desire among the production team to break that record. The only other factor that could intervene is if NBC suddenly starts generating more prime-time hits, making SVU more expendable, which is not the case right now.
---
How Final Are These Fall/Winter Finales?
Question: I love The Blacklist—it's one of my favorite shows, along with The Good Wife—so I'm concerned with the fact that in two weeks we're going to have the "fall finale." Is this show merely taking a short hiatus? Do we have to wait until next year for its return? Or is its future in jeopardy? When this season started, I was a little concerned about it now having Elizabeth Keen on the lam, and it took maybe two more episodes for me to get back to being happy with where it's going, and I'd hate to not have them continue with this arc and go on to, hopefully, another one. What's your opinion? Not only on the fact we're about to have a "fall finale," but what you think of the show itself. — Dorothy
Matt Roush: As I answer this, NBC hasn't yet laid out all of its plans for the winter midseason, but unless the network has something special concocted for the Thursday lineup, I'd expect The Blacklist to be back on the air by late January. (The new Jennifer Lopez Shades of Blue drama will launch Jan. 14 with a two-hour premiere, but then Blacklist will most likely return as its lead-in the following week, unless NBC has something else in mind.) Blacklist had a much longer hiatus last year, setting up its move to Thursdays with the post-Super Bowl stunt keeping the show off the air from mid-November to February. Taking a holiday break is how most shows operate these days, but any interruption causes some alarm among fans, I know. As for The Blacklist itself: The show pretty much fell off my own radar when it moved to Thursdays, but I've sampled the new arc and what I've seen seems pretty exciting, so it doesn't seem to me that this show would be in any immediate danger.
Question: I am getting really annoyed with all of the "winter finales" coming up soon. I realize that, as costs of producing shows rises, networks are not making as many episodes of series as they used to do. But taking weeks between the "winter finale" and the premiere of the "second half" seems to me to be counter-productive when it comes to keeping ratings high, or at least high enough to merit another season. I wonder how many people lose interest because of the time between episodes, especially since reruns seem to be a thing of the past. Am I the only one that feels this way? — Gwen
Matt Roush: Of course you're not the only one who gets aggravated when shows take a break, even though there's nothing at all unusual about this. (Honestly, for most prime-time shows to be able to air roughly 10 episodes in a row in the fall before taking this breather is something of a miracle.) To me, the issue seems to be less about the fact that shows are taking their usual holiday hiatus but that the promotion of "fall/winter finales" has become much more prominent in recent seasons. Shows are calculating their arcs to hit peak cliffhanger moments in late November/early December, and if the shows are back relatively early in the new year, I don't see a problem in this. The announcement of a mid-season "finale" is meant to lessen confusion when a show disappears for a few weeks, even at the risk of creating some anxiety. If fans are loyal to their shows, they'll be back. Especially in the winter months, when TV has more of a captive audience in much of the country. The real challenge is for a show like Empire to split its season so drastically, disappearing for four months (from December to late March). That absence could hurt any show's momentum. But as Empire (and Cookie in particular) likes to remind us, it's not just any show.
---
Are Daytime Dramas Afraid of Gays?
Question: Does anyone in the TV industry know or care that Days of Our Lives exterminated their iconic gay legacy character and pretty much abolished all things gay on the show, just in time to celebrate 50 years on the air? Will Horton was killed off. Talented Sean Christopher, brought on as iconic John Black's gay son, has been on possibly five times in as many months, and Emmy winner Freddie Smith left on his own, probably after being informed his on-screen husband would be murdered and they were not interested in writing any more same sex couples. Did Days of Our Lives turn away from the gay characters due to homophobic fallout? Did they blame the ratings decline on that? I notice General Hospital has backed off the Lucas/Brad romance as well. Is daytime afraid to be gay? — David
Matt Roush: To address this provocative issue, which I am assured has caused some stir within the industry, I reached out to our resident expert in all things daytime, the great Michael Logan. He informs me that Days' executive producer and head writer have so far declined to comment on Will's death, or, quoting Logan, "why [they] would agree to terminate such an important and groundbreaking character. … So we are left to our own suspicions." This surprises me, I'll be honest, given how soaps in general tend to be more progressive and inclusive in their storytelling, especially in light of recent social trends and advancements. And when you look at what's happening in the most popular prime-time serials, like Empire and Shonda Rhimes' Thursday dramas, which spotlight and celebrate all manner of sexual orientations and combinations, I wouldn't expect characters like these to be deal-breakers in daytime. So I'm as puzzled as you are, and you're obviously not alone.
---
RIP to Nashville's Villain
Question: I may be the only fan of Nashville that will miss Jeff. Strange how this season I have grown to like Jeff and Luke. Both seemed to have started out as characters to cause strife and grief for the main characters. Yet they have become a bit more interesting and, dare I say, likeable even than some of the main characters. I see how Jeff's death will create a good story, but I do hope it at least shakes Juliette out of her drunken stupor to again be the fighter we all know and love.
Can I also say how much more enjoyable I found Castle this week without Beckett? I like Beckett, but this week was just a fun episode and actually made me laugh a lot. I would love to see more Ethan and Castle together. One last thing: I realized while watching Murder She Wrote repeats that I am now the age when Jessica first started sleuthing. How old we all thought she was back in those days. Yikes! –Teresa
Matt Roush: Oh wow, thanks for that last laugh. Yes, the longer we watch TV, the more we'll experience that kind of epiphany. (I once identified with Bobby Brady, then Mike Brady—and now some days, I'm feeling more like Grandpa Simpson!) And I'm sure you're not alone in missing the dynamic that a manipulative character like Jeff brought to Nashville. You've got to have snakes you love to hate in a world like that. (I also agree Luke became more compelling once they split him from Rayna, who I hope doesn't neuter Deacon in the long run.) And thank you for finding something positive to say about Castle. (My mail is still running 99 percent negative over developments from the current season.) Agreed that Adam Baldwin makes any show better, including this one, ratings aside.
---
Have Supergirl Ratings Come Down to Earth?
Question: What do you think about Supergirl and its decline in the ratings? It would be impossible for the show to retain its ratings from its pilot episode without The Big Bang Theory as its lead-in, but every time I read an article saying that Supergirl is doomed because of its ratings decline, I just want to throw my laptop out the window! A 1.7 18-49 demo rating for its third episode is nothing to sneeze at today during a time when people watch TV shows on different platforms like online streaming, on-demand, and DVR! That's still a great demo number! Were expectations too high for Supergirl and its ratings? Or should the show's decline be a cause for mild concern? — Chris
Matt Roush: Here's where my role as "TV therapist" comes into play. I'm here to tell you that dwelling on or fretting over nightly ratings is about as productive as obsessing on the daily ups and down of one's 401(k) account. Especially in this multi-platform universe, particularly regarding a show aimed at a younger audience less inclined to be watching in real time, Supergirl's story is far from being over before it begins. It's too bad the numbers from the heavily promoted launch (with the powerful Big Bang lead-in) haven't held up, but it's far from a disaster. So while it would be nice if Supergirl were hitting Empire-level highs, that's clearly not going to be the case. So I advise you to watch the show, not the ratings, and you'll have a much better experience.
---
Is Rob Lowe's Grinder Too Annoying?
Question: What do you think of The Grinder? I thought Rob Lowe's character would be endearing, but he's more annoying. The best part is Fred Savage. — Diane (from Twitter)
Matt Roush: As I have written several times since its premiere (most recently here), The Grinder is one of my favorite new fall shows, and while I get why Rob Lowe's self-dramatizing character would be aggravating on a surface level, I find something very appealing in Dean's desire for the normalcy his brother Stewart represents, even though he can't quite drop the delusion that he's still "the Grinder" at work and at home. That said, I'm just as fond (maybe more so) of Savage's portrayal of the frustrated brother who forever lives in the famous sibling's shadow. His sarcastic asides are always funny, and his slow burn is worthy of Bob Newhart. I think their chemistry is awesome, and this (along with Crazy Ex-Girlfriend) qualifies as one of the most enjoyable and original shows too few are watching.
That's all for now, but we'll pick up the conversation again next week, so keep sharing your thoughts on new and returning series and other TV matters. I can't do this without your participation, so please send questions and comments about TV to [email protected] or shoot me a line on Twitter (@TVGMMattRoush). Or submit your question via the handy form below.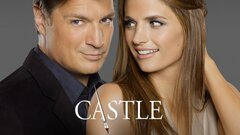 Castle
where to stream