5 Reasons You Should Start Watching 'Fargo' Right Now
It's a sad state of affairs when one of the best shows on TV, FX's Fargo, is also one of the least watched. The crime drama's 1979-set second season has a 100 percent "fresh" rating among critics on Rotten Tomatoes. Yet, just 1.3 million people caught last week's installment. That's only a couple thousand more than tuned in for the 3 pm Bones rerun TNT. This is a wrong which must be righted—and, with that in mind, here's why you should tune in immediately (or, really, tonight at 10 pm) for episode 5.
RELATED: A Who's Who of Strong and Sinister Characters on Fargo
1. Ash vs. Evil Dead star Bruce Campbell makes his debut as President Reagan. Casting B-movie icon Campbell to play B-movie icon Reagan, who stops off in the snowy Dakotas tonight during his presidential campaign, is brilliant in theory. And even better in practice: Just watch Campell as the Gipper delivering a monologue (while standing at a urinal) about his "battle experience" on the set of a Paramount war film in 1942.
2. There's a bitchin' shootout… The war between Fargo's Gerhardt crime family and the Kansas City Syndicate gets real(er) tonight during an ambush in the frozen woods. Shot like an old World War I film (with some bloody modern touches), it will simultaneously satisfy your highest intellect and basest schadenfreude.
3. …And a literal firefight. Ed Blumquist's (Jesse Plemons) slow meltdown (some murderers have remorse, you know) speeds up when he gets a violent visitor at the butcher shop—if only one of them kept an eye on the stove…
4. Ted Danson adds to his Emmy-reel. The TV-vet already deserves big cheers for his turn as good sheriff and concerned father Hank Larsson. But a mid-episode tear-inducing kitchen scene between Hank and his cancer-stricken daughter Betsy (Cristin Miloti) is a high point in his great performance.
5. Nick Offerman. Nick Offerman. Nick Offerman. The actor, whose character's name is "Karl Weathers," doesn't get much screen time, but when he does, he kills it with possible the best Joan Crawford joke ever.
Fargo, Mondays, 10/9c, FX
[jwplatform joiyDDKw]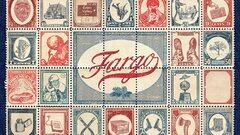 Powered by