'Saints & Strangers' Journeys Back in Time to the Original Thanksgiving Story
Vincent Kartheiser—who famously played smarmy adman Pete Campbell on Mad Men—is nearly unrecognizable with a full beard, tousled hair and dirt-smudged face and clothing. As pious Pilgrim and Plymouth Colony governor William Bradford, he's trying to keep the peace as fists and angry words fly at the Native American Squanto (Kalani Queypo), a former slave, now a translator and negotiator for the tribes and colonists. It's all playing out on the Cape Town, South Africa, set of National Geographic Channel's Saints & Strangers, a myth-busting retelling of the American Thanksgiving tale.
RELATED: First Look at 14 Saints & Strangers Scenes | Watch the Gritty Trailer
For those of us who grew up drawing hand turkeys, the real Thanksgiving story—from the grueling 1620 Mayflower voyage to the famous feast—is as shocking as a season finale of Scandal. "Saints & Strangers is a gritty version of the story we know. We're trying to be factual and cover all the sides of all these individuals," says Kartheiser. "We're not just making a nice holiday special."
The four-hour, two-night event pulls no punches in depicting the squalid conditions below deck during the voyage of a ship designed to carry cargo, not passengers. Crowding 102 souls together with little privacy (even the captain calls it "a filthy, stinkin' kennel") escalated the conflicts between the "saints" (Pilgrims seeking religious freedom) and "strangers" (colonists looking for economic opportunity). To stand in for the historic vessel, producers found a ship that had been used in previous television productions, complete with a gimbal to create the illusion of storm-fueled, biscuit-tossing motion.
"When I was seasick, I didn't have to act," says True Blood's Anna Camp, who plays Bradford's devout wife, Dorothy. Her character is despondent after leaving behind the couple's son, who was deemed too young to travel. "Dorothy is devastated. People are dying from disease. She depends on the wisdom of her husband and her faith in God," Camp says. "When she rebels a little and questions her faith, she's told to fall in line, something she's not comfortable doing." When the Pilgrims reach land, Dorothy's dissatisfaction reaches a breaking point. So does the tension between the God-fearing Pilgrims and pragmatic strangers led by Stephen Hopkins (Rome's Ray Stevenson), a man with a questionable criminal past.
The infighting group survives starvation thanks only to the Pokanoket sachem, or leader, Massasoit (Raoul Trujillo), who disregards the skepticism of his top adviser, elite warrior Hobbamock (Banshee's Tatanka Means), and allies with the English to protect his tribe from other Native Americans, directing Squanto to teach the settlers to farm. "Massasoit was a strategist and went into situations knowing he had to make decisions for his people to survive," says Trujillo, who, along with Queypo and Means, perform using the Abenaki tribal language.
A constant threat to the peace is hotheaded Myles Standish (Hatfields & McCoys' Michael Jibson), a military adviser to the Pilgrims. "He's a bulldog, always first to arm his gun," Jibson says. "He goes in for a fight and it's like a scene from GoodFellas." In other words, the most famous Pilgrim is not the smiling hero of coloring books.
"Our highest priority is authenticity," says Tim Pastore, president of original programming and production at National Geographic Channel. In the pursuit of accuracy, Nat Geo gave Saints a bigger budget and longer running time than its previous scripted programming, which includes the highly rated adaptations of Bill O'Reilly's bestsellers Killing Lincoln and Killing Kennedy. "This is an educational movie," Means notes. "Native kids are going to say, 'Look, my people helped save those Pilgrims. We showed them how to plant.'" It's no spoiler to say that Thanksgiving does, indeed, happen and the sacrifices both sides had to make to get to that point prove to be a test of wills.
A few days later on set, as dusk begins to fall, the cast is shooting a traditional Native American "friendship dance." And although the depicted peace didn't last in the long run, "This is the beginning of the America we know today," Queypo says. "Everybody had an agenda, but somehow we had to make it work."
Saints & Strangers, Sunday–Monday, Nov. 22–23, 9/8c, National Geographic Channel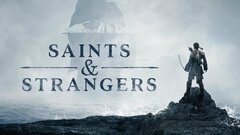 Powered by