Norman Reedus Is Riding His Motorcycle Around America for a New AMC Show
Norman Reedus is trading his crossbow for a bike.
The Walking Dead star has signed on to star in a new AMC nonfiction series that centers on his passion for motorcycle culture. Ride with Norman Reedus (working title) will launch in 2016 with six one-hour episodes.
RELATED: How The Walking Dead Brought Norman Reedus' Career Back to Life
Each episode will feature Reedus–best known to fans as the gritty, no-nonsense Daryl Dixon–as he travels to a different city with another riding companion (either a fellow actor, musician, friend or local bike fanatic). Reedus will explore local motorcycle lore and meet up with collectors, mechanics and craftsmen while visiting custom bike shops, tattoo parlors, collector's warehouses and local eateries.
The chopper that Reedus rides will also change each week, including vintage, minis and cruisers. Reedus' love for motorcycles is well documented; he once even worked at a Harley-Davidson shop in Venice, Calif.
"We love being the home of people's passion projects, and there is nobody more passionate about motorcycles than Norman Reedus," said Joel Stillerman, president of original programming and development for AMC and SundanceTV.  "He is an avid rider and aficionado who is deeply immersed in motorcycle culture. There is also nobody more fun to hang out with. This show will bring those two elements together for a weekly ride into the incredible world of motorcycles and the people who live and breathe them."
Left/Right Productions. is behind the show, to be executive produced by Ken Druckerman and Banks Tarver (This American Life).
RELATED: Norman Reedus on Why The Walking Dead Season 6 Is the Craziest Season Yet
"Norman's interest in motorcycle culture and his natural ability to make friends wherever the road takes him are just two of the key ingredients that make this show so exciting for us," Druckerman said.
The Ride with Norman Reedus greenlight comes as AMC looks to make a bigger return to the unscripted space. AMC mostly got out of that business last year, scrapping shows Game of Arms, Small Town Security and Freak Show, and leaving just Talking Dead and Comic Book Men.
But AMC also has the season season of docuseries The Making of The Mob (next up dealing with Chicago), and recently ordered the documenrary series The American West from executive producer Robert Redford.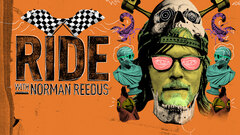 Powered by