YouTube Unveils New Ad-Free Subscription Service, Including Exclusive Original Series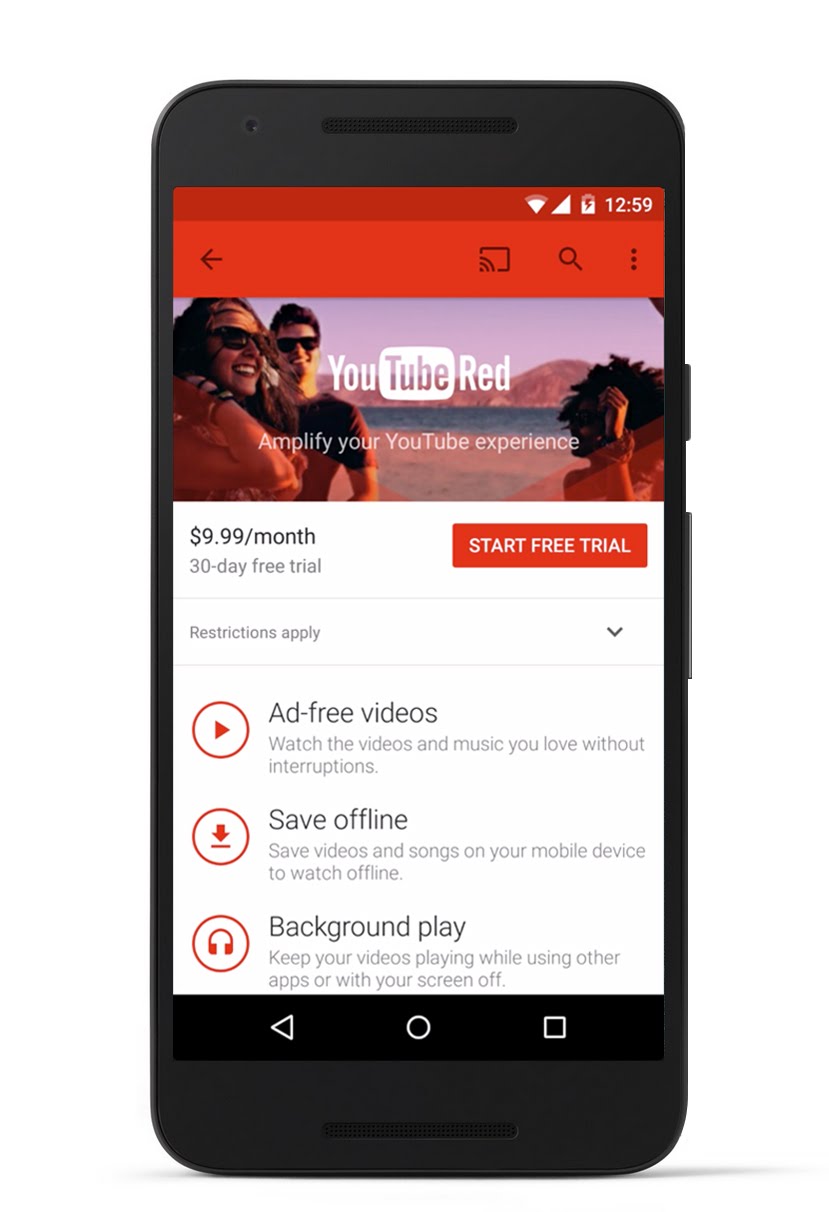 YouTube is taking on Netflix, Amazon and Hulu.
The video service will launch YouTube Red, a new $9.99 monthly service, on Oct. 28. The new tier will give users an ad-free video experience, and also allow subscribers the ability to watch YouTube videos offline on their phone or tablet, and play videos in the background.
YouTube Red will also include access to original programming, most of which will be produced by and starring homegrown YouTube talent such as Lilly Singh, The Fine Bros. and PewDiePie. Spearheading the development is Susanne Daniels, YouTube's global head of original programming, who recently joined the company from MTV.
As part of the announcement, the company also unveiled a new YouTube music app.
RELATED: NBC Launching "Seeso," a Comedy Streaming Service
"It's a major evolution for our platform," says YouTube chief business officer Robert Kyncl.
He downplays the comparison to services like Netflix, however: "Our membership service is completely different from Netflix," he says, pointing to premium services like You Tube Music. "There will some original content with people who have become really huge on YouTube," he says. "But every step along the way we are 180 degrees opposite of Netflix."
The focus on developing projects around only homegrown YouTube stars was deliberate, Kyncl added. "It's amazing we are doing this with the people who have grown up on YouTube," he said. "They are at the core of our investment. I never say never to anything else, but today our primary focus of investment are people who rose to fame on YouTube… we have an amazing talent factory."
YouTube declined to discuss the financial arrangement with content creators under the new subscription model, only touting that the service was "bringing high-value users to our creators."
The free ad-supported YouTube service will continue, and some of the exclusive content for YouTube Red will eventually make its way out of the paywall, Kyncl said. Because of YouTube's tremendous reach, Kyncl said he believed moving some audience members to the subscription service won't affect advertisers. Also, YouTube is investigating how and when to roll out YouTube Red internationally; for now, it will only be available in the United States.
Among the projects in the works:
Scare PewDiePie: Reality-adventure series from Skybound Entertainment and Maker Studios, YouTube star PewDiePie encounters terrifying situations inspired by his favorite video games.

Sing It!: From Fine Brothers Entertainment and Mandeville Films, this scripted comedy satirizes reality singing competitions.

Lazer Team:  A feature-length action-comedy from Rooster Teeth and Fullscreen Films, about four small-town losers who stumble upon an alien ship carrying a mysterious cargo, leading to a battle to save Earth from an all-powerful enemy.

A Trip to Unicorn Island: A look inside the life and journey of YouTube star Lilly Singh as she embarks on a 26-city  global  tour.

Untitled Joey Graceffa project: YouTube star Joey Graceffa brings together an ensemble of other YouTubers for a murder mystery reality adventure.

Single by 30: Harry Shum, Jr. and Kina Grannis star in this romantic drama series about two high school best friends make a promise to get married if they're still single at 30.
Untitled CollegeHumor project: Anthology series from the cast and writers of College Humor, which takes a dark and comedic look at the absurdity of Internet culture.

Fight of the Living Dead: Popular YouTube talent are trapped them in a realistic zombie apocalypse. They must use their instincts and gaming skills to battle for an ultimate prize.

I Am Tobuscus: From YouTube star Toby Turner, a scripted comedy that revolves the world of a self-involved YouTube creator pursuing bigger stardom.
RELATED: Virtual Reality Streaming Can Transport You Into TV