Discovery Channel Deserts Couples in Mother Nature for 'Men Women Wild' (VIDEO)
https://player.waywire.com/?id=QVQXTV23BDXH213X
These folks were born to be wild.
Next month, Discovery Channel will debut a new unscripted series, Men Women Wild, in which three couples take on Mother Nature in remote areas around the world. The show, from the producers of the hit Naked and Afraid, bows Wednesday, Nov. 11 at 10/9c.
The six-episode series drops each of the couples in a harsh climate with nothing but the clothes on their backs and the survival gear they can fit in one bag. They'll have three weeks to learn the way of the land as they fight their way through a journey back to civilization. Along the way, viewers will see them weather the elements… and their better halves.
The couples include a married pair from Alabama that will battle the bitter cold of Norway's snowy fjords and parents from Washington who will test their limits in Southern Mexico's jungle. A boyfriend and girlfriend hailing from Vegas will also gamble it all on surviving Morocco's unforgiving desert mountains.
Take a peak at what's in store for these brave souls in the exclusive promo above.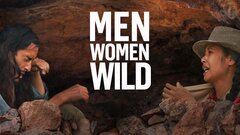 Powered by