JoAnna Garcia Swisher Does Good for Our Nation's Kids, One Breakfast at a Time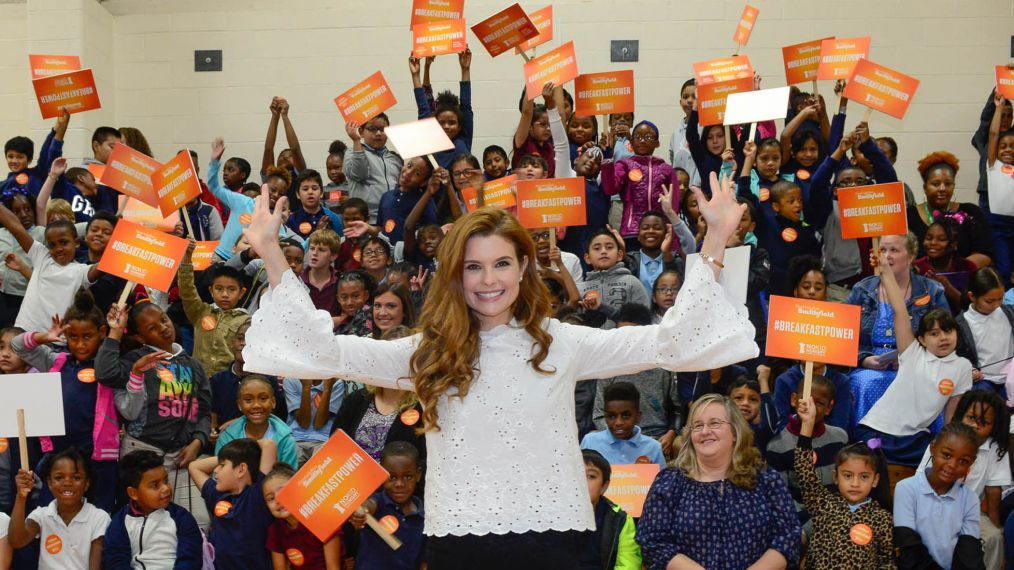 Packing a delightful cast, a feel-good vibe and what we're hearing is a pretty crafty mythology, ABC's high-concept dramedy Kevin (Probably) Saves the World debuts Tuesday night with lost soul Kevin Finn (Jason Ritter) moving in with his recently widowed sister Amy (JoAnna Garcia Swisher) following a failed attempt to take his own life. As he tries to get it together, things start falling apart even more after a "warrior for God" named Yvette (Kimberly Hebert Gregory) appears to Kevin with a heavenly mission.
It's a sweetly funny, non-preachy look at spirituality and the positive power of spreading good will that's rarely seen on TV, and the premiere fittingly coincides with Garcia Swisher's equally uplifting new partnership with Smithfield and No Kid Hungry to help feed  our nation's children through their "Make Breakfast, Share Breakfast" campaign. This week, she joined them at a massive school assembly in Georgia and shared her experiences with us right after.
Ok, this No Kid Hungry program you're involved with is so cool.
I know! I feel really excited to be a part of this. It's such a preventable thing, childhood hunger. So to be able to partner with Smithfield, a company that's really working hard to support No Kid Hungry, and eradicate this unimaginable thing—the idea of not being able to give your own children food—is really incredible.
The statistics are crazy, right? How many kids go to bed hungry?
Their estimate is that 13 million kids in American don't know when their next meal is going to be. And in the state of Georgia, it's 1 in 4. Nationally it's 1 in 6. It's just unfathomable.
On Monday, you kicked off this campaign down in Georgia (where Kevin films) at a local school?
We did, and those kids were so great! I felt like a pep-rally cheerleader. There's 700 kids at this school, it's so incredible. And they were all so excited. It was their first day back after a small break and Smithfield provided them with breakfast. I got to meet some of the kids morning and talk to them about their favorite breakfast foods and how important breakfast is since it's the first meal of the day and how important it is to have a nutritious meal. Statistically, it's proven that children who have a wholesome, balanced meal do better at school. They attend school more and have a higher graduation rate and all of these things. So it was really nice to be able to meet these kids. Then we played a fun little trivia game…the 5th graders really got all of the tough questions. Like, did you know that the biggest pancake ever made was 6,000 pounds?
How do you even cook something that big?
I don't know! It sound horrifying.[Laughs] But yeah, it was so great. I'm going to get the chance to come to New York and talk about it a little more. I have this wonderful opportunity, with the amount that I'm able to promote the show right now, to incorporate the fact that I'm also partnering with Smithfield and their support of No Kid Hungry. I mean, in the month of October, Smithfield has owed to donate up to a million meals to children who are suffering from childhood hunger with the support of No Kid Hungry.
I've always thought that you can judge a civilization by how they treat their young.
That is so true! And I can't explain it, but early on after becoming a mom, when I had Emmy, to be able to feed her was such an emotional experience. I don't even know how to tell you. I don't know if it was some kind crazy hormones running through me, but the idea of looking at your baby and them asking you for food like a little baby bird, I felt so blessed to be able to give her all of these nutritious things and be able to provide healthy meals for her. This program just really resonated with me. The idea that there are so many incredible parents out there that aren't able to do that for their children, I just can't imagine how heart-wrenching that is. To have something like No Kid Hungry work tirelessly to help eradicate childhood hunger is just wonderful. It's also nice to partner with major companies that are hugely successful and want to do the same thing.
It feels like Kevin is also going to do a lot of good for people.
Yeah, it does. It's funny because Jason and I were talking after [an event in New York last week] and we realized there are so many positive things that we know about the show…I don't even think it has been marketed in that way, yet. We actually got our mind blown on set last week by a spoiler and I was like, 'No way!' I'm so excited to share. I just really hope we get an opportunity to see this through.
Both your character and Jason's feel so real. Like these two siblings have gone through stuff.
The writing is incredible and our chemistry is just so unique. Jason and I talk about this a lot, I think we shared a past life together. We've been brother and sister before.[Laughs] We shot a scene the other day where I was so upset at his character and so angry and I was just heartbroken by him and he looked at me andwas like, 'I hate making you so sad!' The only way you could truly be that sad is if you love somebody in that way. It's just a real testament to that connection.
Is Amy the type of mom who's going to be making breakfast? She has a pretty independent daughter, but I feel like Kevin is the type who needs meals cooked for him.
[Laughs] He does! Amy's a little bit of a hot mess right now. She's just holding it together, trying to be a good mom and trying to figure out her life. There are some romantic moments coming my way, which I'm like yeah, throw Amy a bone please! Let's get her life back on track!
It's kind of cool how the spiritual angle of Kevin blends so nicely with your No Kid Hungry work. In the way that you were saying it's almost primal to want to take care of your child, there is also spiritual level of wanting to take care of our communities.
Absolutely, no doubt. And I think that's the thing that resonates most and I hope that's what people enjoy the most throughout the show is that it's so human and it is so real. Especially with the family, that aspect of just taking care of one another and not being a jerk. There's a level of cynicism [on TV] that people are very comfortable with, but while it may seem as though our show is wrapping up everything into a nice little bow, the truth of the matter is that there's no part of it that isn't grounded. It's just very genuine. Life is messy.
Editor's Note: Now through Halloween, you can help Smithfield and No Kid Hungry reach their goal to donate $100,000 to No Kid Hungry to supply over one million meals to children across the country. For every Smithfield breakfast product purchased, the company will donate one meal to No Kid Hungry. To double their donation, consumers can post a picture of their Smithfield breakfast on social media and use the hashtag #BreakfastPower to generate a second donation to No Kid Hungry.
Kevin (Probably) Saves the World, Series Premiere, Tuesday, Oct. 3, 10/9c, ABC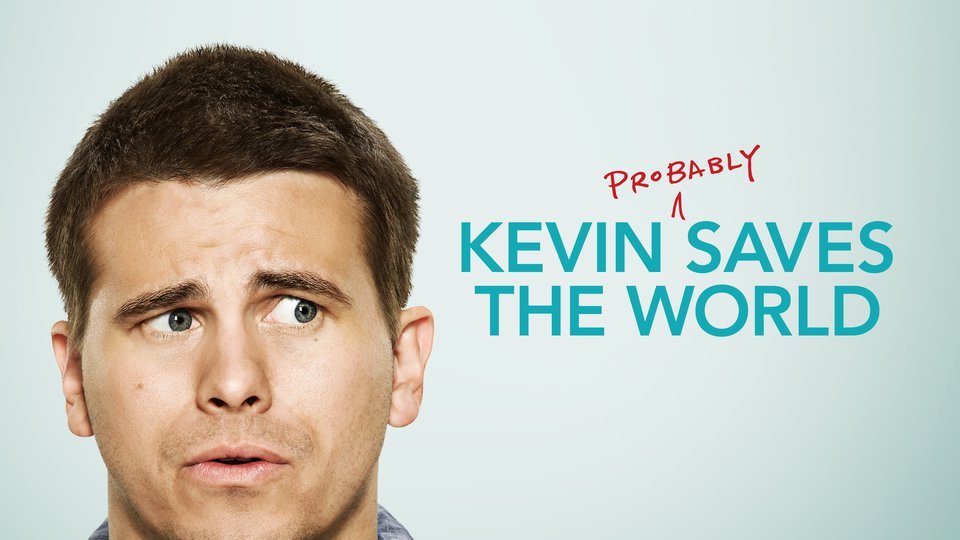 Powered by