Roush Review: 'The Last Kingdom' Is a Lusty Saga of Saxons vs. Pagans
Seems everybody's going medieval these days, seeking gritty and grueling alternatives to the barbarous cable successes of Game of Thrones and Vikings. FX recently joined the grisly party with The Bastard Executioner, but a much more appealing destination lies in wait in The Last Kingdom—which refers to 9th-century Wessex, holding out against the invading Danish hordes while soon-to-be King Alfred puts forth a vision of a united England.
Unlike the relentlessly dour Executioner, with its pretentious mystical visions and cartoonishly hissable villains, Kingdom (based on Bernard Cornwell's series of historical novels) grounds its sprawling saga with flashes of earthy humor and lusty romance. There's a page-turning urgency to the core story of cocky hero Uhtred (an appealing Alexander Dreymon), born a Saxon in Northumbria but captured and raised by pagan Vikings.
After violent turns of fate, Uhtred finds himself aligned rather reluctantly with the wise but enigmatic new king in Wessex. He's torn between two worlds and so are we, because as much as Uhtred might admire the wise and cunning Alfred (played with sly and soulful inscrutability by David Dawson), who's his ticket for regaining his family's land, he truly loves the reckless savages among whom he grew up.
Well, except for those brutes who want to kill him for being a traitor and (framed) murderer.
Uhtred has a splendidly feisty love interest in the defiant Brita (spirited Emily Cox), a scrappy fellow former slave and childhood companion. She considers herself a Dane at heart and would rather fight than switch back to Christian civility, which she perceives as weakness. The ever-welcome Ian Hart also shines as Father Beocca, a well-connected priest and royal adviser who knew Uhtred as a child before he became a "heathen" and who continually vouches for his character to the skeptical king, telling Alfred, "[Uhtred] cannot be tamed, but he can be trusted."
Can he, though? Kingdom regularly tests Uhtred's loyalties, and because this is the rare war epic in which you might mourn casualties on either side as swords and shields bloodily clash, the emotional stakes remain high throughout. This is smart, satisfying entertainment that brings new life to ancient history.
The Last Kingdom, Season premiere, Saturday, Oct. 10, 10/9c, BBC America
---
Questions? Ask Critic Matt Roush!
TV critic (and occasional TV therapist) Matt Roush answers viewer questions and concerns in his Ask Matt column each week. Wondering about plots, characters and twists on your fave shows? Submit your query to Matt via the form below: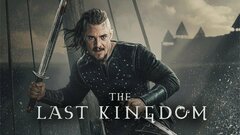 Powered by