Disney's 'Invisible Sister' Hides One Big Secret in Plain Sight (VIDEO)
Get ready for a different kind of sister act when the Disney Channel original movie Invisible Sister premieres this Friday.
Thanks to a science project gone very wrong, science prodigy Cleo (Girl Meets World 's Rowan Blanchard) turns her older, lacrosse star sister Molly (Mighty Med 's Paris Berelc) invisible. The sisters must then work together as they race against the clock to find a cure for Molly's new condition before it becomes permanent. At the same time, they're also trying to balance their schoolwork and Molly's big game.
RELATED: Sneak Peek of Disney Channel's Halloween-Themed "Monstober" Eps
As the exclusive clip below shows, before Molly and Cleo can start working on an antidote—or even think about school—they will have to get past Molly's boyfriend, The Coug.
Watch the video and then catch Invisible Sister on Friday, October 9 at 8:00 pm ET on Disney Channel.
https://www.youtube.com/watch?v=Tok4kxAhQRk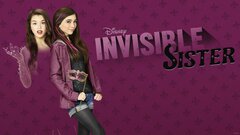 Powered by