'The Originals': Joseph Morgan and Daniel Gillies Bite Down on the Trinity
They're The Originals' most powerful vampire family, but "this season the Mikaelsons are fighting for their lives," says Joseph Morgan, who plays wolf/vampire hybrid Klaus. Their enemies: the Trinity, the first vampires turned by Klaus and his siblings—Elijah (Daniel Gillies) and Rebekah (Claire Holt)—a millennium ago. This week, we'll learn more about the Mikaelsons' complicated history with their three offspring and why they have arrived in New Orleans. Gillies and Morgan share the scoop both on and off screen.
The Mikaelsons must be the most dysfunctional clan on TV!
Morgan: [Laughs] Last season was about the family's wicked parents and auntie, and this season is all about the "children" they're responsible for siring, starting with Lucien [Andrew Lees], Tristan [Oliver Ackland] and Aurora [Rebecca Breeds]. When war breaks out among these three sire lines, the siblings will have to make the difficult decision to take out their own offspring to protect one another.
Klaus's "son" Lucien claims he's come to New Orleans to protect him. Does Klaus believe him?
Morgan: It's for selfish reasons, because if Klaus, the head of his line, dies, Lucien dies too. Elijah and Klaus suspect he has other motives.
So are the show's Cain and Abel finally working together?
Morgan: [Laughs] Am I Cain or Abel? I want to use that reference and claim it as my own. I've already tweeted it. Something biblical would be appropriate at the end of the series.
Gillies: The show does seem to carry its own apocalyptic sense of doom. And in Season 3, it's centered on the prophecy that predicts the family's imminent downfall, which will then bring very, very bad things.
You sound enthused about this season.
Morgan: It's exciting to go to work because I signed on to do a vampire show and this season is more vampire-centric.
Gillies: The story is much more streamlined: less witchcraft and lycanthropes!
The brothers disagree about almost everything. How about you guys?
Gillies: We both have a crush on Michael Shannon. We just watched The Iceman together.
Morgan: We watch movies and TV shows on Netflix in my room between scenes. We're huge fans of the British version of The Office, and we quote it incessantly to each other.
Gillies: If we were to meet Ricky Gervais or Stephen Merchant, we'd die.
The Originals, Thursday, Oct. 22, 9/8c, The CW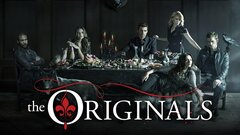 Powered by