Bollywood Star Cast as Saturn Girl on 'Supergirl'
Warner Bros. Television announced Monday the casting of a new addition in Supergirl's world. British-born actress, Amy Jackson, will recur as Saturn Girl in The CW show's third season.
"Saturn Girl, aka Imra Ardeen, is a kind, smart, and strong-willed hero who uses her telekinetic ability to help those in need. She was born on Titan, one of Saturn's moons, and arrives on Earth to help Supergirl battle one of her biggest threats," according to a release.
Jackson is a newcomer in the U.S., but has spent years making films in India. She began her career as a model before turning to acting.
Supergirl, Season Premiere, Monday, Oct. 9, 8/7c, The CW
See Also
Barry and Iris' wedding is gonna be lit!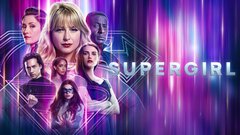 Powered by