'NCIS: Los Angeles': Here's Why Mosley Clashes With Callen and the Team
You'd have to work pretty hard to find a TV boss tougher than NCIS: Los Angeles's Hetty Lange (Linda Hunt), who went mysteriously AWOL in the CBS hit's Season 9 premiere. But her replacement, former Secret Service agent Shay Mosley (new cast regular Nia Long), is somehow even stricter. Just look at the suit! That doesn't bode well for a team that follows only one rule, which is "don't follow the rules." But D.C. transplant Mosley could be a refreshing change. Besides, going rogue has become so cliché—and, according to Long, Mosley's got moves we've never seen.
Things are tense between Mosley and the L.A. NCIS gang from the start. What is her biggest beef with them?
She came to Los Angeles to keep an eye on them because she thinks they can do things inappropriately. In her opinion, that office has become the wild, wild west and she's come to show them who is boss.
What changes does she make?
The big difference she makes is in attitude and approach. She questions their process. She's eyeballing them with her Secret Service background, making sure everything and everyone is where they need to be, when they need to be there. And she lets the team know that she's just as smart as they are, if not smarter.
See Also
After his wife is murdered, will Sam (LL Cool J) return to the team?
Which agent does she clash with the most?
Chris O'Donnell's Callen. He's the one who is very quick to correct and remind her that their way of doing things has worked over the last nine years. And then she's very quick to remind him that there is a process and procedure to how things should go.
What do you enjoy most about being on the show?
We just shot an episode where we go undercover, so Shay got to go outside the office and I got to shoot a gun. For the show, I've had to train with all different kinds of weapons. It's part of the research required to fully understand who Shay is, and it's been the most fun part of the job for me.
Do you know anything about the show's upcoming blockbuster 200th episode?
I can't say, but I'm really looking forward to it. I feel proud of my castmates for making something that is so beloved and appreciated by audiences. I feel lucky to be a part of it, but I'm not sure I'm worthy!
NCIS: Los Angeles, Sundays, Oct. 8, 9/8c, CBS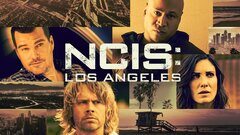 Powered by