City of Chicago Planning to Tear Down the 'Family Matters' House
Where will Steve Urkel be able to burst through the door now? The City of Chicago has decided to demolish the house that belonged to the Winslow family in the 1990s hit comedy series, Family Matters.
The house stands at 1516 W. Wrightwood Ave. but will soon be "wrecked and removed" to make room for a three-story unit built. Even though the show was filmed in California, the family was supposed to live in a Chicago suburb, and this house in the Windy City's Lincoln Park area was featured in the opening credits.
The owners of the house intend to honor the memory of the beloved series, though. Coldwell Banker realtor Lissa Weinstein told DNA Info, "[The owners] plan to decorate the entry with framed photographs of the original house and the show's beloved cast."
Check out the house in the show's intro:
Family Matters can be streamed on Hulu beginning Sept. 29.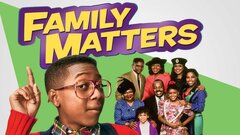 Powered by