'A Different World' 30th Anniversary: Binge-Watch Memorable Episodes During TV One's Marathon
TV One is planning on celebrating the 30th anniversary of A Different World with a 14-hour marathon on Sept. 24, the same date the series premiered in 1987. The marathon will launch with the pilot episode, which still remains the most-watched premiere in TV history with a staggering 38.9 million viewers. The marathon will run from 10am to 1am ET and feature the most popular episodes in chronological order.
Dexter Cole, TV One SVP of Program Scheduling & Acquisitions, said, "TV One is excited to celebrate the 30th anniversary of A Different World, a truly iconic television show which displayed the black college experience in a way that touched and inspired generations of students to pursue a higher education."
A Different World premiered on September 24, 1987, on NBC as a spin-off series from The Cosby Show. The series initially focused on the Huxtables' free-spirited daughter, Denise, played by Lisa Bonet. The show followed her as she attended her parents' alma mater, Hillman College.
Bonet left the series after one season, with the show then focusing on other characters such as Whitley Gilbert (Jasmine Guy) and Dwayne Wayne (Kadeem Hardison). While The Cosby Show typically avoided addressing issues like race relations or the AIDS epidemic, A Different World would tackle topics such as these through the prism of its collegiate characters.
A Different World, 30th Anniversary Marathon, Sunday, Sept. 24th, begins 10am/9c, TV One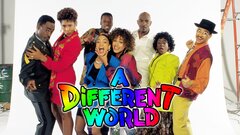 Powered by