'Agents of S.H.I.E.L.D.'s Ming-Na Wen and Blair Underwood Share the Real Source of Their Chemistry (VIDEO)
https://player.waywire.com/?id=4QHLJZ237S4FRP3S
If you think Ming-Na Wen and Blair Underwood have amazing chemistry on-screen, there's a reason: the two actors go way, way back as college friends to their Carnegie Mellon days.
"Ming is one of my long-standing friends in this town," says Underwood, who also notes that their very first Marvel's Agents of S.H.I.E.L.D. scene took place on a college campus. "It's real!," adds Ming-Na about the bond they have as actors, which helps their characters. But, jokes Underwood, Clark Gregg is still his favorite person on set.
RELATED: 3 Revelations About This Season
When Season 3 of S.H.I.E.L.D. returns, fans will see what happened after May packed a red bikini to go on vacation ("Or do they?!" teased the actress).
Watch the video above to learn what other shows the stars would guest star on, and the celebs they get starstruck meeting (or "stalking").
RELATED: Check Out New and Returning Fall Shows
Marvel's Agents of S.H.I.E.L.D., returns Tuesday, September 29, 9/8c, ABC
---
Questions? Ask Critic Matt Roush!
TV critic (and occasional TV therapist) Matt Roush answers viewer questions and concerns in his Ask Matt column each week. Wondering about plots, characters and twists on your fave shows? Submit your query to Matt via the form below: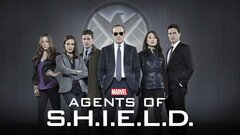 Powered by