'Heroes Reborn' Premiere: Can Luke Be Redeemed? Tim Kring and Zachary Levi Weigh In
Warning! This article includes spoilers from Thursday's series premiere of Heroes Reborn.
Will Luke Collins get away with murder? The premiere of NBC's Heroes Reborn found the frantic vigilante—played by former Chuck star Zachary Levi—taking part in a mass slaying of EVOs (a.k.a. Evolved Humans) that left seven dead before the opening credits. Horrifying, yes, but series creator-exec producer Tim Kring is determined to get us on Luke's side.
"The slaughter was intended to tell people who watched the original Heroes that we are now in a very different world—one that is far more scary and dangerous," says Kring. "It used to be that if you woke up with these special powers you'd perhaps have an existential crisis, or maybe a mystical journey. Now we're not messing around. Having special powers could mean your death."
Luke and his wife Joanne (Judi Shekoni) lost their son one year ago in a terrorist incident that was blamed on EVOs. Now they want revenge wherever and however they can get it. Joanne may be a lost cause, but Kring says he will send Luke "on a road to redemption, to the extent that it's possible to redeem a character who does such heinous acts. That's the challenge. How can we make the audience care about him and, maybe, in some small way, understand him? Of course, it helps having Zach in the part. He comes to us with a background of great likability."
RELATED: 7 Heroes Newbies Who May Have Superpowers
Kring is not expecting the impossible here. "There is such a thing as personal redemption without ultimate redemption," he says. "The audience doesn't have to forgive Luke completely."
Levi is up to the task. "Luke's soul has been shredded," notes the actor. "Joanne has fully gone to the dark side, but Luke struggles with all this revenge. He's still trying to convince himself that this is the right thing to do. We rarely see characters like Luke who are so tortured and messed up that he is literally without hope. It's such a weird, interesting thing to play."
Levi is quick to clarify that "no one is asking the audience to embrace wrong as right, but we're all damaged in some way. Luke's story is a way to help us understand our own brokenness."
Heroes Reborn, Series premiere, Thursdays, 8/7c, NBC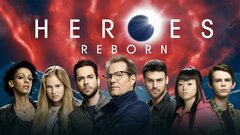 Powered by