Watch: An 'American Ninja Warrior' Bids Emotional Adieu to His Canine Sidekick
After a summer of jaw-dropping athleticism, the Emmy-nominated American Ninja Warrior is ready to (possibly) crown a new champ as the season's best Ninjas face the soul-crushing Mount Midoriyama in Vegas.
"I can't wait for people to see the finale on Monday," raves Matt Iseman, who co-hosts along with Akbar Gbajabiamila and Kristine Leahy. "It's been an incredible season and this will be the perfect way to wrap it all up…the course this season is the hardest we've ever had, without a doubt."
On the line is a cash prize of $1 million—"these Ninjas are going to have their hands full of they want that [money]," jokes Iseman of the brutal run ahead of them tonight—but for one hopeful, it is matters of the heart that are more motivating than the cash.
"This is a huge year for all the Ninjas but a very personal one for me especially," confesses Brent Steffensen, the San Antonio stunt man and fitness trainer who has been competing on ANW for eight years. In 2016, Steffensen and one-time teammate Kacy Catanzaro (previously known as Ninja Warrior's Power Couple) amicably ended their romance, and then right before the 2017 rounds began, the still-close pair lost Mr. Mogley, the adorable Schnauzer/Jack Russell terrier they shared and were often loving on during trial rounds an practice videos.
"I've dedicated my season to my former sidekick, Mr. Mogley. Plus, I'll be saying goodbye to an old training partner, Kacy," says Steffensen, inspiringly upbeat despite setbacks that would lock most of us in the emotional fetal position. "I'm stoked about my performance so far. I felt super smooth on Stage One and The Big Dipper [challenge] could be my favorite obstacle of all time. It makes you feel like as superhero flying through the air."
In this exclusive video from the finale, Steffensen and Catanzaro share their memories of Mr. Mogley and what he means to them. Watch with caution…and Kleenex close by.
American Ninja Warrior, Season Finale, Monday, 8/7c, NBC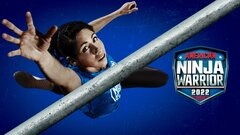 Powered by