Jack Ryan Is Getting the TV Treatment Lost's Carlton Cuse and Michael Bay are bringing the Tom Clancy CIA character to television. According to Deadline, "the show is not a direct adaptation of the books as were the firsts Jack Ryan movies but a new contemporary take on the character in his prime as a CIA analyst/operative using the novels as source material."
Fallon adapted Terrence Howard's Lucious look for The Tonight Show's Jimpire. UPDATE: Watch Fallon's Jimpire.
"I want to thank you for running for president. This stuff writes itself." Colbert said during his Late Show interview. At one point, Colbert asked about Obama's birthplace, but Trump ducked the "big fat meatball" of a question. PLUS: PewDiePie, John Oliver and Mindy Kaling to visit Colbert next week. UPDATE: Watch Trump play "Trump or Colbert."
The new Ryan Murphy Fox series began promoting itself in February, with that month's Friday the 13th as a launch pad. Fox hoped the unprecedented early promotion would separate Scream Queens from other fall shows.
The Pontifical Mission Societies is urging Catholic hosts Stephen Colbert, Conan O'Brien, Jimmy Kimmel, Larry Wilmore, Jimmy Fallon, Carson Daly and Chris Hardwick "not to let ratings and rivalries stand in the way of unity." PLUS: Late-night hosts impersonate each other.
"I don't think you get paid a lot, and it seems kind of thankless," she tells ET. "You get rewarded with getting to host again."
A lot of Emmy viewers don't know how to spell Andy Samberg's last name.
Says Kaling: "A lot of people have been questioning how a baby will change the dynamic, and honestly, if anything it's given her a surprising depth as an actress to now play."
Broadway actor Andy Karl will guest on one episode.
"Take any 14 shows we've made — they're better," says FX CEO John Landgraf.
Australian prison warden Michael Baxter now holds the record for "most tattoos of characters from a single animated series."
Fall of a City will air later this winter.
"Pretty weird that a 5 year old tweet from a nobody was dug up like that," George Lelea, Jr. wrote on Facebook in response to Bell reading his mean tweet on Jimmy Kimmel Live.
Scott M. Gimple says to expect characters of all ethnicities to die next season.
He'll assist Paul Giamatti on the Showtime series.
Both pilots will feature females, one involving a con artist and another focusing on a prof who steals from her student.
That's thanks to his gradual transformation over eight seasons from clueless misanthrope into a romantic lead.
"We're in a never-ending communication with homeland security, with NCIS in Washington," says executive producer Gary Glasberg. PLUS: Jon Cryer accomplishes his NCIS guest-starring dream.
The Japanese-born actor will get to share his life story via a comedy about an English as a Second Language class.
Jimmy Iovine said he got the idea from a pal, who said: "Why don't you use Kerry Washington at Apple?" They ended up using Selma director Ava DuVernay to film the spot. PLUS: That ad may have been better than the Emmys.
Barker's 1987 fantasy/horror novel will be updated to focus on an app designer.
On tonight's show, Britney was directed what to say by Joe Jonas and Neil Patrick Harris.
The Season 19 champ will be back for TV Week.
Bowie was tapped to write the theme for Britain's Sky TV's The Last Panthers, a diamond heist drama.
Watch Dylan can't touchy-feely with Brenda.
The San Francisco-based reality show, premiering Tuesday, looks more like a stale copy of the ABC reality show.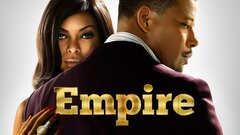 Empire
where to stream