'Scorpion' Showcases the Race to Stop an Earthquake in the Season 4 Opener
And you thought your job was stressful. In Scorpion's Season 4 premiere, the team races to stop a tiny earthquake under the arctic shelf from bringing about mankind's extinction. And lest you think the series is being a tad dramatic, "We got this from real research," insists executive producer Nick Santora. "Scientists are concerned about massive methane collections—millions of years of gas—underneath the ice shelf. If they were to erupt and escape, we could have a climatological disaster." Another problem: The group's old imprisoned foe Mark Collins (Joshua Leonard) alerts them to the doom. "Collins says he's a changed man [and wants to help], but everybody knows he's full of s–t," exec producer Nicholas Wootton says. "Still, they don't have a choice but to trust him." Look for Special Agent Gallo (Robert Patrick) to find his job—and freedom—in jeopardy after the gang's go-round with the criminal.
If they can get past all that, happiness is on the horizon: Walter (Elyes Gabel) and Paige (Katharine McPhee) officially give romance a go. And newlyweds Happy (Jadyn Wong) and Toby (Eddie Kaye Thomas) plan to expand their family. Says Santora, "Different people are going to give them every bizarre idea of how you can increase your chances of conceiving." Oh, baby!
Scorpion, Returns Sept. 25, 10/9c, CBS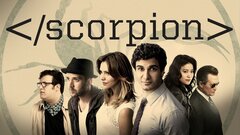 Powered by