'Fear the Walking Dead' Episode 3: Kim Dickens on Madison's "Tough Decisions"
The zombie apocalypse hit home on this week's episode of AMC's Fear the Walking Dead.
As Travis (Cliff Curtis) fled downtown Los Angeles with his ex-wife Liza (Elizabeth Rodriguez), son Chris (Lorenzo James Henrie) and the Salazar family, his girlfriend Madison (Kim Dickens) barricaded herself inside their home along with children Nick (Frank Dillane) and Alicia (Alycia Debnam-Carey). But with the infected looming outside, Nick insisted on breaking into their neighbor Susan's house to find a shotgun, where they came face-to-face with the zombified homeowner. While Travis insisted she was just sick, Madison did not want to take any chances and was prepared to take matters into her own hands before the military arrived at their doorstep.
RELATED: Fred Dillane on Nick's Struggle for Survival
"Madison has the ability to make tough decisions fairly quickly," Dickens says. "She may live with the consequences afterwards and suffer a little because of that, but it's just in her nature. She immediately knows who she has to defend and protect, and just launches into action. She's a mama bear."
Dickens, who already has had a number of close encounters with the infected over the first three episodes, says she has great respect for the actors who don layers of makeup to portray the undead. "The actors and the special effects team are just unbelievably talented," Dickens says. "The way they transform these actors is haunting. Every time they have a major scene, we all clap at the end because they're so awesome and scary."
But now that the cavalry has arrived, don't expect the situation to get safer anytime soon for this family. "It's out of control, so we can't protect ourselves and the government is not able to protect us," Dickens says. "Civilization will start to fall apart before our very eyes in our very own neighborhood. When bad things happen, they happen pretty quickly."
Fear the Walking Dead airs Sundays at 9/8c on AMC.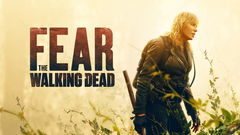 Powered by