Watch My Show: Disney XD's 'Pickle and Peanut' May Be Your Kids' New Obsession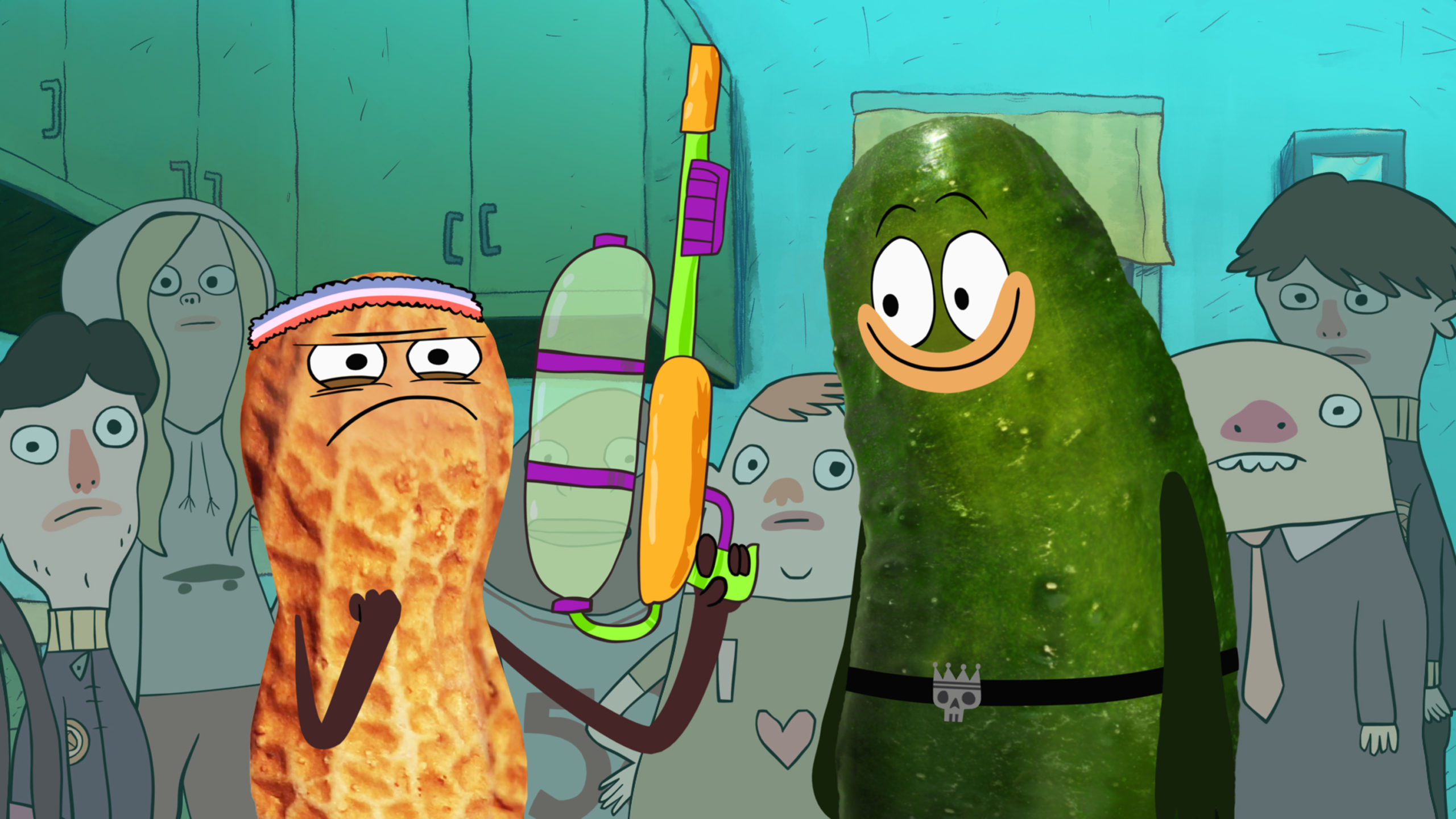 It's their last year of high school, and mismatched buddies Pickle and Peanut are making the most out of their final year before adulthood.
Jon Heder (Napoleon Dynamite) and Johnny Pemberton (22 Jump Street) lend their voices to the two underdogs, who come up with big plans in their little suburb in Reno. The new animated buddy comedy series, which premieres Monday at 9/8c on Disney XD, comes from creator Noah Z. Jones (Fish Hooks) and was developed by Joel Trussell (Yo Gabba Gabba!).
Jones and Trussell filled out our "Watch My Show" showrunner survey to explain why we should snack on Pickle and Peanut.
I've got room in my life to watch just one more show. Tell me why it should be yours.
Noah Z. Jones: Disney has developed an algorithm that allows television ratings to be transmuted into a cure for diseases that only effect baby animals (it's true). By fitting our show into your busy TV watching schedule, you're actually saving kittens. That's pretty noble of you.
Joel Trussell: I'm no life coach, but I think you're probably watching too much TV. Good thing I'm an enabler, because I think adding our show to your addiction will add laughs, feels, and the satisfaction of taking things over the edge.
Who should be watching?
Jones: Anyone who loves things like puppies and baby turtles.
Trussell: Really everyone from grandmas to grandbabies should give it a day in court.
What happens if we don't watch your show?
Jones: What, you don't like saving baby animals? What kind of a monster are you?
Trussell: I hear your eyes turn black and fall out.
What's the best thing anyone has said or written about your show?
Jones: I heard Oprah Winfrey said, "Pickle and Peanut is my favorite show in the history of television history. It delights me to my core, and makes me dance with pleasure and joy."
Trussell: We're a smart, sophisticated, yet dumb show.
What's the worst thing?
Jones: Or perhaps Oprah said, "Did I say Pickle and Peanut? I meant the one with all the nerds and the blonde, that show is hilarious. Pickle and Peanut is garbage"
Trussell: "This signals the end of all ideas."
Who was right?
Jones: Who's right? Who's wrong? I think we can all agree that Oprah makes a pretty good point.
Trussell: They're all LIES!
What's an alternate title for your show?
Jones: Maybe This Is All a Terrible Idea
Trussell: You Can't Do That on Disney TV
Give us an equation for your show.
Jones: Abandoned malls + mom jokes – good ideas = Pickle and Peanut.
Trussell: Beavis and Butthead plus a fraction of Pee Wee's Playhouse. That's pretty much it. I'm terrible at math.
Come up with a premise for the spin-off.
Jones and Trussell: The Spiritual Self: Pickle and Peanut present a half-hour reality series highlighting home-renovations, clean living, and tasteful DIY tattoos.
What credit of yours would you prefer we forget?
Jones: Can I pre-forget that I'm working on Pickle and Peanut? Is there a word for regretting something before you've done it? Pregret? C'mon! That's gold! I pregret working on Pickle and Peanut.
Trussell: My friend registered a feature length home movie we made in 1998 called Takin' It Back to the Streets on IMDB. I played a character named Detective Mike Rotch. I've asked them to delete it many times, but it still remains. ¯\_(ツ)_/¯
If you weren't on this show, what series would you most like to be on, and what would you do?
Jones: Oh I don't know. I'd be lucky to get a job anywhere. It's only a matter of time before Disney kicks us out of the building. Do you know of something opening up?
Trussell: Victoria's Secret Fashion Show as a script consultant.
Let's scare the network. Tell us an idea that didn't make it on to the screen.
Trussell: We did have a character with a continually melting face and another with no skull, but we put them on pause for a minute.
Finish this sentence: "If you like _______, you'll love our show."
Jones: …reading "finish this sentence" sentences,
Trussell: If you like miniature donkeys, you'll love our show. Trust me on this one.
What other show would you like to do a cross-over episode with — and how would that go?
Jones: We'd like to do a cross-over episode with KCAL 9's Ten O'Clock Weather Report. That Mega-Doppler 7000 HD is tight.
Trussell: A cross over with Curb Your Enthusiasm seems like a natural fit. I'd first apologize for taking a poop on them.
How will your show change the face of TV as we know it?
Jones: I have to come clean. Earlier in the interview I wrote that thing about Disney's "baby animal curing algorithm". I was lying. I was just trying to soften you up to make you think that I was funny and/or interesting. I'm really sorry. I hope you don't think less of me. Phew. I feel better now. Thanks for hearing me out. Our show will change the face of TV by giving everyone who watches it the POWER OF FLIGHT AND MIND CONTROL! Disney has created an algorithm that…
Trussell: It's a lot to assume, but I imagine TV will be cocking its head, and squinting its tear-filled eyes… in a good way!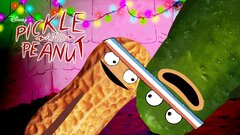 Powered by