Todd Chrisley Talks 'Chrisley Knows Best' and New Show 'According to Chrisley'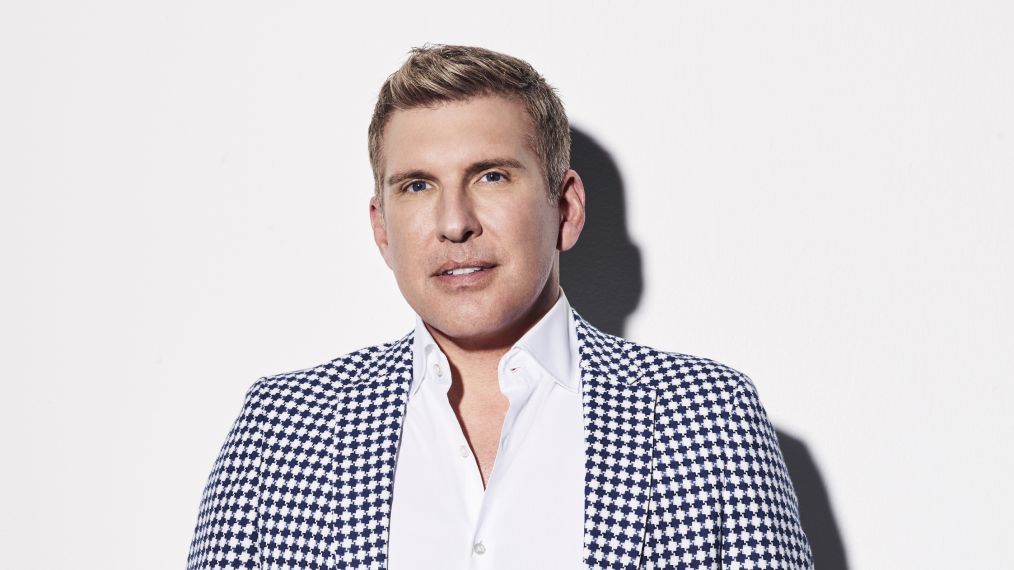 No matter if it's advice about marriage or parenting or anything in between, chances are Todd Chrisley has a few pearls of wisdom to share. Those who have enjoyed watching him on the hit reality series Chrisley Knows Best can expect more of the same on According to Chrisley. The two shows will make up a Chrisley power hour starting September 12 as Chrisley Knows Best returns with new 18 new episodes of Season 5 culminating in a two-part Christmas special (the show has already been renewed for Season 6).
According to Chrisley has been in the works for around nine months, with Todd describing the concept as a mix between a daytime and nighttime talk show. The budding host will welcome guests including from Ali Landry and Chris Jericho to Carmen Electra and Heather and Terry Dubrow.
"I have celebrities, and I interact and take questions from the audience," he said. "I give them real-life advice based on what I've gone through in my own life. We just have a very nice, comfortable, casual conversation…We do have that celebrity component, but my show is not heavily based on celebrity content. My show has more of a 'Let's get here, roll your sleeves up, give me what your issues are and let me see if I can help you with them' [attitude]."
See Also
Todd makes a trip back from the dentist an exercise in how to make Chase start sobbing.
Expect other members of the family to drop by and be part of the fun. Chrisley is ultimately proud of the episodes shot so far. During the process, he found inspiration in the talk show greats before him.
"Steve Harvey has been very good to me since the beginning of my career in the entertainment industry," he said. "He has been a very good mentor for me. I also watched Johnny Carson growing up, and so many other people who were the true pioneers of this industry. I think for me, I just treated it like people were coming into my living room. They are guests in my home, and I wanted to treat them the same way here on this stage as how I would treat them in my home."
This approach and feeling of Southern hospitality has resonated with audiences of Chrisley Knows Best over five seasons. Though the success hasn't changed the fact that when the question of continuing with the show comes up, the decision is made together.
"If we have someone who is not interested in moving forward, then we hear that person out. We don't have any hard feelings about that, but majority rules," he said. "No one in this family is going to stand in the way of someone else. If you can't be on the same train that everyone else is getting on and there is only one person stepping off it. It takes more than one monkey to stop a show. We make these decisions jointly and cohesively."
The show made the Chrisleys well-known public figures and opened the door to a wealth of opportunities. However, Todd appreciates the other benefits beyond just fame and fortune.
"It's also been very good for us because it has forced us to stay together to deal with whatever issues our kids are having. … I say the show in retrospect has been the best babysitter I've ever had because I've got six million eyeballs a week telling me what my kids are doing."
Looking ahead to the return of Chrisley Knows Best, he believes they are still constantly evolving. The backend of Season 5 features Chase's 21st birthday, a Nanny Faye prank, Savannah hosting a fashion show, and Julie awaiting word on a health diagnosis.
"There are some situations that you are going to see that we had to struggle to get through and make it to the other side," Chrisley said. "I say the hardest job I've ever had is raising young adults. I used to think that if I can get my kids through high school. I mean I've never had any problems with my kids.
"Chase and Savannah were always great students. I never had a problem, but they had their bulls*** just like all kids do. But they were minor compared to when your child leaves the nest and are in college or out on their own. They are making their own friends and you don't know where these friends are coming from and what their family structure is. What the dynamics were and how they were raised. And I say some of the biggest influences your child will have are people you may never meet…We have to give you the good, the bad and the ugly. So, I think you are going to see that."
See Also
Elliot and Mr. Robot are at war in 'Mr. Robot' Season 3. Plus, take a look at the new key art.
Chrisley Knows Best returns September 12 at 10/9c on USA Network
According to Chrisley premieres September 12 at 10:30/9:30c on USA Network