'Marvel's Agent Carter's Hayley Atwell and James D'Arcy Can't Stop Laughing in Real Life (VIDEO)
https://player.waywire.com/?id=KCC15S3B57DDT9FL
Hayley Atwell and James D'Arcy may play serious characters who save the world on Marvel's Agent Carter, but the two costars can't keep a straight face in real life. (No surprise, given their amazing Dubsmash War against the S.H.I.E.L.D. cast.) The lovably goofy and hilarious actors hung out on the TV Guide Magazine/TV Insider yacht at Comic-Con to talk their show's second season, which will have a six-month time jump.
"Well, I'm moving to Hollywood because Howard Stark has decided to set up a movie studio," D'Arcy shared before turning to Atwell. "Now why you're coming to Hollywood, we're not exactly sure about yet. I feel like there's a murder…" Or, is Peggy Carter there to be a movie star? Only time will tell, but one thing D'Arcy believes will remain consistent about his character: "I think Jarvis is mainly going to swelter in three-piece woolen suits."
When Atwell was asked how she felt about Dwayne "The Rock" Johnson's not-so-secret crush on her, she mused, "That would be an amazing collaboration. Peggy and the Rock."
Watch the entertaining video above as the two actors also share their Comic-Con experience (a sea of Storm Troopers!) and the celebrities who make them starstruck ("Meryl Streep… [an] angelic vision of loveliness," Atwell revealed).
RELATED: More Comic-Con Features | Video chats with the casts of Marvel's Agents of S.H.I.E.L.D., Archer, Colony and more.
Questions? Ask Critic Matt Roush!
TV critic (and occasional TV therapist) Matt Roush answers viewer questions and concerns in his Ask Matt column each week. Wondering about plots, characters and twists on Marvel's Agent Carter? Submit your query to Matt via the form below: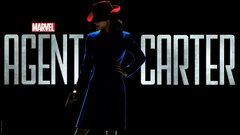 Powered by