Andy Samberg on Why He Kinda Sorta, But Didn't Really, Join Twitter
Yes, it's true: @AndySamberg has officially joined Twitter. Andy Samberg, however, has not.
The Brooklyn Nine-Nine star, who hosts the 67th Emmy Awards on Sept. 20, recently took over the @AndySamberg account and has so far attracted nearly 10,300 followers. Those fans shouldn't hold their breath, however: Samberg won't be posting on that account.
Instead, Samberg is directing fans over to @TheLonelyIsland, where his comedy partners Akiva Schaffer and Jorma Taccone are Tweeting on his behalf.
"What happened was this, and I'm glad I get to talk about it," Samberg tells TV Insider. "Somebody had @AndySamberg as a Twitter handle forever and we finally reclaimed it. In reclaiming it, I guess it sent out a blast saying I had joined. When in fact, we are using Twitter and Instagram, but we're doing it as The Lonely Island, not me personally as myself."
Originally, Samberg's sole Tweet was "Follow me @TheLonelyIsland." Says the comedian: "I think even that, some people read it as, 'Hey, the Lonely Island, follow me, Andy Samberg!' But it was just me saying, if anyone wants to follow me, they should do so at @TheLonelyIsland. But we have been a little more active there, Akiva and Jorma have been doing some fun stuff."
Samberg's one and only Tweet has since been amended to be a little more specific: "Hi. I use @TheLonelyIsland. Follow me there…"
@TheLonelyIsland has been active as of late, posting photos of the comedy team shooting and editing their upcoming movie for Universal. The account has also been steadily promoting Samberg's Emmy hosting gig.
But as for Samberg, the actor says his position on Twitter hasn't changed, and that he's not quite ready to be active on his own account just yet.
"I maintain the same thing I've always said about Twitter, which is, I feel like it would dominate my life," he says. "Because I wouldn't be able to do it casually. And I would spend tons of time thinking of things I'd want to write or say, and I'm already working five jobs right now. I don't feel like I have time to give it what it deserves, for what I'd like to put into it and tell people that this is me and this is what I stand by. I'd rather put that energy into the other work I'm already signed on to do. But maybe some day."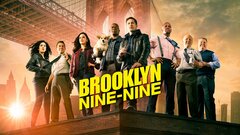 Powered by