'The Amazing Race': New Cast Includes NFL Cheerleaders, TMZ Correspondents
R-A-C-E, Race, Race, Race! The long-running CBS reality franchise The Amazing Race is about to embark on its 27th journey around the globe this fall as 11 brand new teams of two duke it out for the million dollar grand prize. And this year's competitors will have an extra pep in their step thanks to racers Tiffany Chantell Torres and Krista DeBono, two former professional cheerleaders for the New York Jets.
Other standout contestants include TMZ on-air correspondents Kelly Berning and Shevonne Sullivan, as well as engaged couple Diana Bishop and Justin Scheman, an Amazing Race super fan who designed his own course when it came time to pop the question.
RELATED: The Amazing Race Kicks Off Its 27th Season in Venice Beach
Teams will begin their journey in Venice Beach, Calif., and must endure a number of physical challenges before taking off for their first international destination, Rio de Janeiro, Brazil. Check out the full rundown of this season's teams below!
Alex Manard (22) & Adam Dingeman (24)
Cousins from Champaign, Ill. and Des Moines, Iowa, respectively
Cindy Chac (36) and Rick Chac (38)
Married from San Diego, Calif.
Denise Williams (51) and James Earl Corley (26)
Mother and son from Prattville, Ala.
Ernest Phillips (29) and Jin Lao (26)
Brothers from Boston
Jazmine Lewis (23) and Danielle Littleton (23)
Best friends from Moreno Valley, Calif. and Riverside, Calif., respectively
Justin Scheman (30) and Diana Bishop (30)
Engaged from Bronx, N.Y. and Sharon Hill, Pa., respectively
Kelly Berning (37) and Shevonne Sullivan (31)
TMZ co-workers from Los Angeles and Taunton, Mass., respectively
Kelsey Gerckens (25) and Joey Buttitta (26)
Dating co-workers from Ventura, Calif. and Simi Valley, Calif., respectively
Logan Fazio (36) and Chris Gordon (46)
Dating from Miami, Fla.
Tanner Kloven (26) and Josh Ahern (28)
Best friends from Fort Worth, Texas and Dallas, Texas, respectively
Tiffany Chantell Torres (28) and Krista DeBono (28)
Former NFL cheerleaders for the New York Jets from Little Falls, N.J. and New York, respectively
The Amazing Race premieres Friday, September 25 at 8/7c on CBS.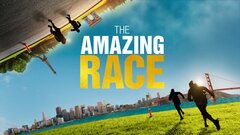 Powered by