'The Amazing Race' Kicks Off Its 27th Season in Venice Beach
And they're off! Eleven teams of two hit the beach in Venice, Calif., this morning for the start of The Amazing Race's 27th season.
Hundreds of fans along with some past racers—including last season's winner Laura Pierson—assembled at the Venice Beach graffiti wall to cheer on the new crop of contestants, which feature a pair of TMZ correspondents and dating news anchors. But before teams could get their plane tickets to their first destination, Rio de Janeiro, Brazil, they had to compete in a grueling pontoon pedal bicycle race on the water in Marina del Rey, with the first place finishers receiving the only two tickets on the earliest available flight.
We caught up with host Phil Keoghan just moments after all the teams completed the challenge, which included a small hiccup when best friends Tanner Kloven and Josh Ahern from Dallas broke their bicycle and had to catch a boat back to shore.
How do you feel the opening went?
Today was magic. We did a public start on Season 25 in Times Square and realized that there is some real potential to having the fans be a part of the show and create that energy. But today, there was something really incredible about being at the iconic location of Venice Beach with all the graffiti, the sun and the palm trees. It was just really good energy. I'm hoping that we can do public starts every time because for the teams to have that energy to work off of, it changes the whole opening.
Why did you want to open with this challenge?
It was a good way to sort out where everybody was at physically. There are some teams that performed better than I thought and there were some other teams that I thought were going to do better who either got lost or fell in the drink. The number one thing that the teams say to me is that it's much harder than they thought. We haven't even gone two miles from the starting line and they are completely drenched.
What are your feelings about this year's cast?
I'm going to go out on a limb this early and just say I think it's the best cast that we've had in terms of the dynamic range. I'm also going to say that it's a disruptive cast, in the sense that I think they're going to create great content for us once they're out on the course. I'm not sure there is a cast on reality television that is as diverse as an Amazing Race cast. If you look at the different backgrounds of all these teams, some are straight, some are not, some are big and some are small. We pride ourselves in having a very diverse, dynamic cast.
Last season, you shook things up with the blind date twist. Do you see more twists like that in the future?
I think the show will evolve. [This season], fans wanted us to get back to basics and in fact, there are some elements to this race that are very reminiscent to Season 1. That's what the fans want, and we listen to the fans.
You're about to embark on your 27th journey around the world. How do you keep it fresh?
We always try to put new and different places in our course, and some of the challenges that we have are quite different in the way that they're constructed. We have a little bit of a twist that we're going to drop on the teams in regards to the Express Pass. The winner of the first leg is going to get the Express Pass, but in terms of how and when they use it, it could be a game changer.
At the end of today's challenge, Tanner and Josh had some issues with their bicycle. What happened?
Well, I think the Texas boys were bringing a lot of fibrils to the challenge [Laughs]. They just muscled the machine to bits. I like that they took it all in good stead and understood in the heat of competition, sometimes things break and that's exactly what happened. They were disruptive!
The eleven teams competing on this season of The Amazing Race are:
Ernest Phillips & Jin Lao, brothers from Boston.
Denise Williams & James Earl Corley, mother and son from Prattville, Ala.
Cindy & Rick Chac, newlyweds from San Diego, Calif.
Alex Manard & Adam Dingeman, cousins from Chicago and Des Moines, Iowa, respectively.
Justin Scheman & Diana Bishop, engaged couple from Philadelphia.
Jazmine Lewis & Danielle Littleton, athletes from Los Angeles.
Tanner Kloven & Josh Ahern, best friends from Dallas.
Kelly Berning & Shevonne Sullivan, TMZ correspondents from Los Angeles.
Kelsey Gerckens & Joey Buttitta, dating news anchors from Santa Barbara, Calif.
Logan Fazio & Chris Gordon, dating paparazzi from Miami Beach, Fla.
Tiffany Chantell Torres & Krista DeBono, friends from Hoboken, New Jersey and Staten Island, New York, respectively.
The Amazing Race premieres Friday, September 25 at 8/7c on CBS.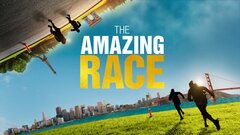 Powered by