On the 'Wahlburgers' Season 4 Finale, Mark Wahlberg Attempts to Give His Friend a Makeover (VIDEO)
FI9AbRlG
When it comes to brothers and burgers, no one's got the family love or the family business locked down more than the Wahlbergs (as in Mark, Donnie and Paul).
All the brothers are actors, though you probably know Donnie from '90s boy band New Kids on the Block and Mark from his various movies (Boogie Nights) and TV shows (Entourage).
Since the family launched the first Wahlburgers restaurant in 2011, an A&E reality docu-series followed in January 2014, which tracked the behind-the-scenes moments as the brothers decided to expand their business outside of Boston.
RELATED: Lachey's Bar: Brothers Who Sing and Brew Together
Believe it not, the series' fourth season finale airs tonight, with Mark being tapped by a friend ("Big A") for love-dating help and advice, and Paul working with his daughters to create the Burger of the Month. In the exclusive clip above, Mark goes to Big A's house to pick out the perfect date offer but gets more than he's bargained for in the closet.
Wahlburgers, Season finale, Wednesday, September 2, 9:30/8:30c, A&E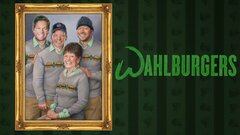 Powered by