'Lachey's Bar': Brothers Who Sing Together, Brew Together
Well, at least we know what will be playing on the jukebox. The new A&E docuseries Lachey's Bar follows siblings Nick and Drew Lachey—of 98 Degrees boy-band fame—as they attempt to open a watering hole in their hometown of Cincinnati. "We've always dreamed of having our own version of Cheers," Drew says.
Before they can go where everybody knows their name, the duo has to figure out how to transform an empty space into something functional—without strangling each other. "Nick's more the big-picture guy, and I'm more the detail guy," Drew says. "We butt heads, and we thrive on giving each other a hard time."
By the end of the season, it'll be happy hour at last—but which cocktails best represent the new saloon keepers? "I'd be a good, well-rounded bourbon drink with a kick to it," Drew says. "Nick's probably the girliest drink possible—like a lemon drop!" Oh, brother.
Lachey's Bar, Series premiere, Wednesday, July 15, 10:30/9:30c, A&E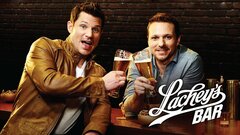 Powered by