Rebellion Is in the Air! Enter to Win 'Star Wars Rebels' on Blu-ray
Are you ready for the rebellion? Join Ezra, Hera, Kanan, Sabine, Zeb and Chopper as they take a stand against the mighty Empire and run into some familiar faces along the way. We're giving away five copies of Star Wars Rebels: Complete Season One on Blu-ray (now available on Blu-ray and DVD); if you're a fan (and honestly, who isn't?), this set is a must-have.
Star Wars Rebels: Complete Season One delivers all 15 action-packed episodes, plus cast interviews, never-before-seen bonus clips and all Season 1 shorts.
Check out this clip from Episode 15, "Fire Across The Galaxy" and then enter the sweeps below. And, as always, may the force be with you.
[jwplatform 5DLgrKge]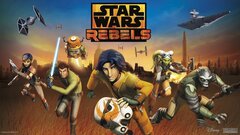 Powered by