Nurse Jackie Gets Ready for Its Final Dose
"I could never be a nurse," Edie Falco confesses. "I don't think I am selfless enough, at least in the way they need to be." Still, that hasn't stopped the actress from racking up five consecutive Emmy nods and one win for playing a nurse, albeit one with more problems than most of her patients. Since 2009, Falco has been scrubbing in as Jackie Peyton, the prickly emergency-room pill popper of Manhattan's fictional All Saints Hospital, and now, as her seventh and final shift begins, she takes some inventory.
The First Step
The season premiere picks up seconds after last year's finale, which saw Jackie ram a car full of drugs into an ambulance. Falco reveals that our antiheroine does spend some time in the slammer. But don't expect this to become Orange Is the New Jackie. Once released, she's faced with some real consequences: losing custody of her kids, her nursing license, and access to her meds. Jackie will have to get clean, creative, and slightly criminal to regain her standing at All Saints. "Addicts are a wily bunch, and there is very little they can't do if they put their minds to it," Falco says. "There are certainly more obstacles placed before her than ever before. But I think in the mind of a true addict, that ain't nothing!"
Finding a Power Greater Than Herself
Jackie's road to recovery–professionally, at least–will lead to a shake-up among the All Saints staff. Per the hospital's diversion program, she will be demoted to a nurse's assistant and assigned an on-site monitor in sweetly sassy former protégée Zoey (Merritt Wever). Between the demeaning urine tests and menial chores, you'd think Jackie would bristle at answering to the woman she once mentored, but, Falco says, "there is a bit of a disassociation on Jackie's part. This is a means to an end. It's what she has to do to get back to where she wants to be." And it's not the only change on the board. Peter Facinelli's perpetually dopey Dr. Fitch Cooper will exit halfway through the season and be replaced by Dr. Bernard Prince (Monk's Tony Shalhoub), a lovable Johns Hopkins grad who comes to see Jackie for more than her messy record.
Some Are Sicker Than Others
Opiates aren't Jackie's only bad habit, so don't be surprised if she once again develops a dependency on pharmacist fling Eddie (Paul Schulze), especially now that her ex-husband (Dominic Fumusa) has remarried and written her off. "Little by little, she challenged everybody in her life to leave," Falco says. "But Eddie never did." So is he a good guy, or just a glutton for punishment? Falco says he's both and concedes that, even though the guy has romantic intentions, he's also Jackie's main enabler. "No matter what she did, he was going to be there. And here she is, as low as she can get, and he's waiting for her. Some people thrive on that kind of mania, and Eddie seems to be one of them." By midseason, though, Eddie may suffer the consequences of his own addiction to Jackie.
Admitting Personal Powerlessness
"I told them to never let me know what was going on, because I didn't want to know how the series was going to end," Falco says, adding that she chose not to become a producer throughout the show's run. "I prefer to do what my job is." That required a level of blind faith, but having taken the same stance during her years starring on The Sopranos, Falco was more than happy to stay out of the writers' room. "I trust them and think they have the bird's-eye view on not just who Jackie is, but on the whole story."
To Thine Own Self Be True
When asked how she thinks viewers will feel about the series finale (shot in sequence "so the end would be the end," says executive producer and writer Clyde Phillips), Falco is as up front as her alter ego. "I'm too close to it," she says, "so I have no idea how people will react!" But she does feel as if there can't be any real closure with a junkie like Jackie. "There is no guarantee to any of it, and I think that is what the whole show is about–to show people that you have to find the stability in the instability of having an addict in your life." The original plan for the finale was to bring down the hospital in a fire as Jackie ran off to a new life while her coworkers battled the flames, but Phillips says that "too-big twist" was nixed for something that seemed more in character. Falco has made her peace with whatever they came up with. "I feel great about it," she says, with the serenity that comes from accepting the things one can't change. "I tend to come around no matter what, though."
Nurse Jackie, Season premiere, Sunday, April 12, 9/8c, Showtime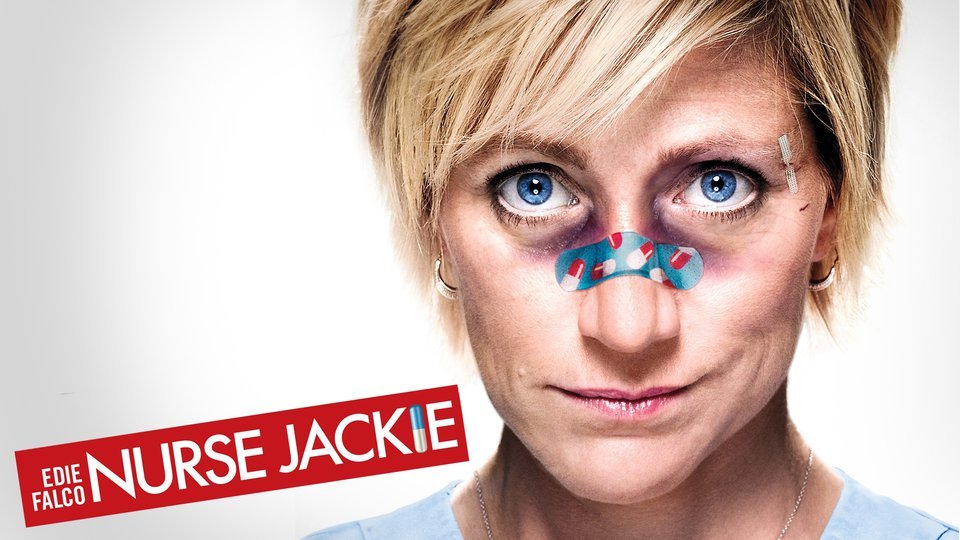 Powered by