First Look: 'Great News' Hits the Road in Season 2 Promo Art
Great News is picking up speed for Season 2, and not just because the NBC series has landed Tina Fey for a guest spot.
In this season's freshly unveiled key art, The Breakdown team is seen zipping along in their news van, probably hot in pursuit of the next great story now that the underdogs of cable media have had a taste of journalistic victory.
Starring Briga Heelan, John Michael Higgins, Andrea Martin, Nicole Richie, Adam Campbell and Horatio Sanz, the ensemble comedy wrapped up "last season with [them] breaking this big hacking story," explains showrunner and creator Tracey Wigfield (who also appears as Breakdown's doomsday-favoring meteorologist, Beth). "And with that, they ousted the president of MMN."
Cue fellow EP Fey, who is set for the season's first three episodes as "Boss Bitch" author and CEO Diana St. Tropez. The calculating, ratings-hungry powerhouse—and personal hero of Breakdown segment producer Katie (Heelan)—will surely shake things up for anchors Chuck and Portia (Higgins and Richie), as well as Katie's unimpressed and overprotective mother Carol (Martin), but there is at least one staffer who is psyched about St. Tropez's plans to reinvent the show.
"Oh, Greg is so excited," laughs Wigfield of Campbell's uptight executive producer. "Diana has bought him a new clipboard."
Great News, season premiere, Thursday, Sept. 28, 9:30/8:30c, NBC.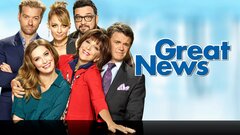 Powered by